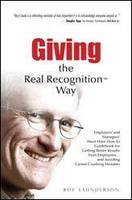 Montreal, QC, New York, NY and Atlanta, GA (PRWEB) September 9, 2008
Recognition Management Institute, North America's leading employee recognition solutions consultants, has announced the launch of their awareness campaign with FieldMedia, publishers of Benefits & Compensation Solutions and CDHC Solutions magazines and web communities by bringing Thanks But No Thanks cartoon series and bulk sales of GIVING The Real Recognition Way by Roy Saunderson to their online human capital community at http://www.bcsolutionsmag.com.
The campaign includes a free copy of GIVING The Real Recognition Way to every new qualified HR executive who registers at BCSolutionsMag.com. Since debuting at the Recognition Professionals International Conference last spring, GIVING by Roy Saunderson, has received rave reviews on the influence of employee appreciation to profitability. The program is designed to build awareness for the recognition message and encourage HR professionals to embrace a company-wide recognition culture by sharing this collection of research/results and tips/techniques with their entire management team.
The Thanks But No Thanks cartoon series by Richard Lytwynuk brings humor into the recognition message will be showcased on the BCSolutionsmag community. Additionally, also available through the Online Community's marketplace are custom cartoon orders. These allow HR managers to have their own executives communicating the funny but meaningful messages to employees.
About RMI
The Recognition Management Institute (RMI), based in Montreal, has worked with dozens of firms, employing innovative employee recognition techniques to improve business results. Its clients have included Bell Canada, 3M, and the Canadian government, among others. Whether improving productivity and morale with employees, creating a recognition strategy that fits with a company's culture, or learning the skills of how to give effective recognition, RMI can help get results. Founder Roy Saunderson is also an accomplished speaker and author of the book How to Focus on Success! For more information visit http://www.realrecognition.com
About Field Media
FieldMedia, LLC, http://www.fieldmedia.com, is an Atlanta-based, integrated media company building print, web communities and business information products to serve the human capital management markets including an emphasis on benefits, compensation and the emerging "Consumer-Directed Health Care" market segments.
About Rideau
Rideau's Technology Enabled Services enhances all of the relationships that impact business performance through a comprehensive suite of rewards and recognition products. Rideau's Human Capital Management (HCM) offerings include performance awards that reinforce excellent work habits and celebrate achievement and service awards that commemorate loyalty. It's a unique, bundled approach that has caught on among many of the Fortune 500 and leading HRO providers. From RBC to Boeing and from H&R Block to Bell Canada, global businesses of all sizes use Rideau's rewards and recognition solutions to reduce turnover and engender loyalty. For more information, please call 1.877.789.0449, extension 242.
This press release was distributed through eMediawire by Human Resources Marketer (HR Marketer: http://www.HRmarketer.com) on behalf of the company
listed above.
###