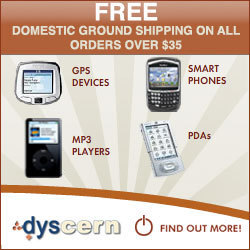 Sept 10, 2008 (PRWEB) September 10, 2008 -
Dyscern.com the place for discount consumer electronics, founded in 2002 by Jennifer Canty in her basement, is now recognized as a Titanium PowerSeller on eBay, the highest level achievable, for bringing quality discount consumer electronics to the marketplace. Maintaining a better than 99% favorable rating with customers, Dyscern.com has been featured in such publications as The Wall Street Journal, The Washington Post, and Entrepreneur Magazine, and was featured on Fox News.
Discount Consumer Electronics, YES at Dyscern.com sells refurbished and open box name brand Discount MP3 players, Mobile Phones such as the Palm Treo, PDAs, and other consumer electronics, all processed and inspected by technicians at a state-of-the-art facility in Sterling, Virginia. The discount electronics company receives store returns and salvage merchandise, which are then inspected and repaired for resale. The result is a significant discount to the consumer. Every consumer electronics unit is thoroughly tested before leaving the warehouse, and backed by the company's 30-day money-back guarantee. Dyscern.com also offers free shipping on orders over $35, increasing the value of each sale, and offers special deals on items weekly.
Three blogs facilitating consumer electronics reviews on the Dyscern.com website bring further value to the consumer with tips, reviews, and other consumer electronics information information. Tek Swank, Dr. Samuel Says, and Gadget Guide all offer insight into the consumer electronics marketplace, and are fun to read besides.
About Dyscern.com
Dyscern.com prides itself on bringing quality, name brand electronics to the consumer at significant savings. The company refurbishes, repairs, and thoroughly inspects every item that comes through their warehouse, ensuring satisfied customers on the other end. Dyscern.com operates its storefront at dyscern.com , and on eBay, where electronics are sold under the eBay IDs dyscern, and dyscern_closeout.
###