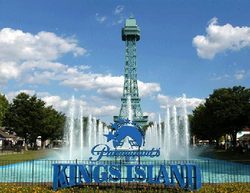 I'm looking forward to the September 20th and think this will definitely be a great event.
Mason, OH (PRWEB) September 9, 2008
Since its first competition only one year ago at the Hamilton County Fair in Ohio, the KWCUSA has since moved to an impressive outdoor stage at Paramount's Kings Island Them Park, created an overnight international celebrity in a grad student from Cincinnati, and attracted the interest of sponsors, karaoke clubs, D.J.'s and aspiring singers in the process.
This year, the 2008 Karaoke World Championships USA National Competition will be held on Saturday, September 20, at King's Island Theme Park on the International Bandstand Theatre stage with a prestigious fountain display as a backdrop and the park's beloved landmark, the Eiffel Tower, to complete the scene. Contestants will compete from all over the U.S., including Florida, Illinois, Indiana, Kentucky, New York, Ohio, Oklahoma, Oregon, Tennessee, Virginia, Washington. Officials at King's Island are excited to be part of a what has increasingly proved to be a growing phenomenon. Jennifer Hoban of Kings Island says "I'm looking forward to the September 20th and think this will definitely be a great event." The male and female grand prize winners of this event will receive hotel, airfare and $1200 cash to represent the U.S.A. in the world competition to be held on October 23 through the 25th in Lahiti, Finland.
Part of the reason that there is so much buzz around the KWCUSA national competition is last year's first place male winner, Michael Moses Griffin. Griffin, a lovable, charismatic crooner sung his way into the hearts of not just his American audience, but also his international audience at the 2007 KWC finals in Bangkok, Thailand where he won second place. Born to an opera singer (mother) and a professional gospel singer (father), Griffin is a born performer with a true love for the audience, and undoubtedly the poster child for the uplifting effect karaoke has socially. After winning 2nd place in the world championship last year, Griffin stated that he was inundated by Facebook requests from all over the world, and he was invited to perform at several KWC events, including this years' KWC USA national competition.
Michelle Davis, editor of Karaoke Traveler explains that "although karaoke originated in Japan, the concept of having a national contest open to everyone epitomizes the American notion that everyone has the opportunity to succeed based on their own talent and determination. This is most likely the key to the competition's growing popularity."
The success of the KWCUSA National event has also attracted the sponsorship and support of various businesses in the profitable karaoke music market.
Major online karaoke CD retailer, Chartbuster Karaoke is providing the prizes for this year's event. Prizes listings can be found at the KWCUSA.net homepage. Soundchoice.com sponsored the 2007 competition. Because karaoke is as much a spectator sport as it is a performance art, sponsors and local venue hosts are very enthusiastic about affiliating with the KWCUSA since it means getting their brand or venue in front of a large, national audience of karaoke enthusiasts. Sponsorship packages are available for large and small businesses, and judging by the enthusiasm of some of KWCUSA's host venues from last year, such as Big Mama's karaoke Café in Tennessee, Pub 44 in Florida, and Karaoke Top Tunes of New York, participation in local contests will continue to grow exponentially, making sponsorship a good prospect for karaoke-related businesses. Sponsorships are extended on a seasonal basis; therefore there is still time for sponsors to be included in this year's event and next if they act fast.
The start of the 2009 season of local, state and regional contests will begin September 15th. A full timeline will be available on the KWCUSA.net site. Venues that would like to host a contest may register directly on KWCUSA.net or call 866-610-7464. Malls, restaurants, fairs, festivals, colleges, and social groups may also register as contest hosts. The KWCUSA encourages individual singers to enter the 2009 championships via a local competition, however singers may enter directly into the competition after October 1st with a $300 entry fee. KWCUSA will determine whether direct entry singers sing at a state or regional contest, and the singer is responsible for all expenses to compete at a state or regional contest.
###