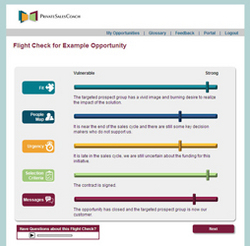 Coaching is one of the most critical components of a total approach to sales effectiveness, but it is often underutilized and mismanaged. PrivateSalesCoach is one tool sales leaders need to consider
Waltham, MA (PRWEB) September 9, 2008
PrivateSalesCoach, http://www.privatesalescoach.com, announced today the formation of a new sales-enablement company and the launch of an instant, private sales-coaching and selling-benchmarking program.
The Edge - Insights and Benchmarks
For the first time, sales organizations can instantly benchmark where they are strong and where they are weak on specific selling opportunities and, at the same time, provide sales professionals with insights that lower deal risk and increase their odds of winning.
Ten Minutes to Takeoff
In less than 10 minutes, a sales professional conducts an opportunity "Flight Check" using the PrivateSalesCoach web diagnostic application. Reps receive a visual snapshot of where they are strong and vulnerable in the opportunity. They also receive strategies and specific recommendations for next steps in five common selling dimensions.
"Our sales opportunities are the oxygen of our business, yet, I am constantly pulled into other issues, which, in the past, have short-shifted sales-team discussions about key opportunities. We now run "Flight Checks" on our key opportunities. Like having your labs done before you see your physician, it changes the discussion. It helps me focus on the most important issues and gives me essential information without interrogation. We're more efficient, there's less conflict, but bottom line, I'm lowering my risk and improving my odds of winning." Michael Marks, President and Co-founder of SedonaOffice.
Are Common Principles Common Practice?
"Coaching is one of the most critical components of a total approach to sales effectiveness, but it is often underutilized and mismanaged. PrivateSalesCoach is one tool sales leaders need to consider," observed Dave Stein, CEO and Founder of ES Research Group, Inc., a leading sales effectiveness research firm. "PrivateSalesCoach works on principles that are common to all sales methodologies. It can provide salespeople and their managers with a pragmatic and effective coaching process, aligning them, once and for all, toward a common goal--winning business."
Rob Scanlon, founder and CEO of PrivateSalesCoach, explained why he developed the program: "Many sales organizations and individual sales managers believe in coaching and its impact on sales results. There are often treasures of selling wisdom locked up in the heads of sales managers and executives who don't practice coaching because they are interrupted by the frenzy of day-to-day selling and deal management. We had four objectives for PrivateSalesCoach:
1) provide a real-time benchmark for selling opportunities
2) give individual reps a selling edge with powerful insights
3) unlock the treasures of the coaching discussion between managers and reps
4) work the way sales does: fast, in a hurry and respectful of the art and challenge of selling."
The PrivateSalesCoach program includes a hosted web application that is practical and cost effective for sales teams with as few as 10 and as many as 10,000 sales professionals. Companies selling through a channel now have a practical, affordable way to assist channel reps, while capturing critical metrics to help them optimize channel sales results.
PrivateSalesCoach also announced that Avitage is an authorized reseller of the PrivateSalesCoach program.
To learn more about how PrivateSalesCoach can give your team an edge through coaching, view the embedded YouTube vignette or follow this link to view a high-resolution version:
http://www.youtube.com/watch?v=SJRJjlhu-2Y&fmt=18
For more information or a demonstration, please call us at 781.522.8050 or email us at info@privatesalescoach.com.
About PrivateSalesCoach
PrivateSalesCoach LLC is a sales-enablement company founded in 2008 by Rob Scanlon, principal of the Scanlon Group, and Jim Burns, CEO of Avitage. The company's initial service, PrivateSalesCoach, is a sales-coaching program with a web diagnostic application.
For more information, please visit http://www.privatesalescoach.com or call us at 781.522.8050.
PrivateSalesCoach LLC
1432 Main Street
Waltham, MA 02451
About Avitage
Avitage (name derived from audio-video montage) is a business communications services company. We help companies enable users to communicate internally, with sales channels and customers using tailored, dynamic, multimedia communications to capture attention and motivate behavior change. Through unique ways to create, manage, deploy and deliver custom multimedia communications, our customers produce high volumes of professional quality, re-usable, modular, multimedia assets, with development times measured in minutes, hours or days at costs well below traditional production methods.
We are unique in the way we enable the business front line to instantly assemble and deliver custom multimedia shows that are tailored to the specific interests of each audience. This creates a competitive advantage that increases win rates, reduces sales cycles, increases selling time--all while lowering selling costs.
For more information, please visit http://www.avitage.com or call us at 781.522.8000.
TM PrivateSalesCoach is a pending trademark of PrivateSalesCoach LLC.
Copyright 2008 PrivateSalesCoach LLC. All rights reserved.
###