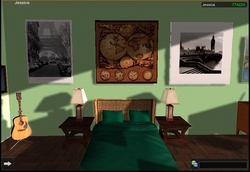 Hangout makes social networking immersive and fun --addressing a huge untapped opportunity for online experiences and activity.
San Francisco, CA (PRWEB) September 8, 2008
Building on the popularity of social networking, online games, and digital media, Hangout Industries (http://www.hangout.net) unveiled the world's first casual and immersive 3D social networking experience that allows teens and young adults to create and customize their own virtual rooms featuring real brand-name products, and where their friends can join them in a safe and secure environment, to hang out and have fun together. For teens, Hangout helps My Space become My Place.
Launched today, at the prestigious TechCrunch50 conference (http://www.techcrunch50.com/2008/) , Hangout gives teens the ability to connect and truly interact with their friends online. On Hangout, teens interact with their friends as they do in the offline world- whether it be watching favorite videos on YouTube, listening to music, sharing Facebook photos, engaging with popular brands and products that they love, playing games or making music, or just chatting "in person". Kids can now create their own personal 3D rooms leveraging real goods and clothes and hang out with their friends in their own spaces. Hangout combines the immersive nature of the Sims with the personalization of MySpace and the security and privacy of Facebook.
Hangout Availability: Try it You'll Love It
Previewed at its TechCrunch50 public debut, Hangout is now open for sign-ups for a select number of private beta testers at http://www.hangout.net, which will be followed by a full public release later this fall.
Hangout: The Experience and The Company
Hangout has been built from the ground up to be a great experience for non-technical users. Hangout runs on both PCs and Macs, supports all major operating systems and doesn't require special graphics cards. Users can not only customize their room but they can even build and modify objects in their rooms including completely altering the shape and style of furniture, and many other objects in a Hangout room. Hangout leverages cross platform, browser-based and Web 2.0 technologies that plug-in to larger social networks (Facebook, MySpace, etc) and Web content so that users never have to leave their profile pages to interact in their Hangout rooms.
Pano Anthos, CEO of Hangout stated "Virtual worlds have been in the public eye since the beginning of the decade when TIME Magazine featured Sims Online on its cover. Hangout members get a far more immersive, synchronous and realistic experience than the 2D+ worlds of Gaia or Habbo, and without any of the privacy and usability concerns that come from trying to download and use virtual worlds like Second Life."
Hangout has already attracted youth-focused brands that want to make sure that Hangout users can interact with their favorite products in the room including AllPosters.com, Cardboard Robot, Café Bustelo Coffee, Celsius, Dank Squad, Dim Mak Records, Dim Mak Collection, Imperial Motion, IS eyewear, Milo, Monster Energy, Mumz the Werd, Neff, Ogio, Pioneer, Pony, Rockwell Time watches, Sessions, Skullcandy, Suunto Watches, Triumvir, Zappos.com, and Zuriick. Colin Brickley, Director of Sports and Entertainment Marketing at Pony commented "Hangout's visual quality lets us present our brand online, with no quality compromises. If we can get kids to put our shoes on their virtual selves, they are that much closer to buying our physical product. We can't afford not to be in Hangout."
A number of tastemakers including trendsetting DJs, musicians, pro athletes, and other trendsetters will be releasing their rooms in the near future. Some of these trendsetters include bands like Chromeo and Datarock; DJs Irie, Hapa, and Junior Sanchez; soccer stars Stuart Holden and Leslie Osborne, and extreme sports faves like snowboarders Drew Fuller and Kimmy Fasani; as well as skateboarders Lauren Perkins and Greg Lutzka. Fredrik Saroea of the band Datarock said "We're active on MySpace and have 48,000 friends, but there is nothing for them really to do on our profile page. Hangout adds a visual dimension to social networks and websites that enables communication, commerce and interactivity on a level that no one else has touched. It's fun for us and our fans to use and totally takes the cake." Be sure to visit http://www.hangout.net for "new construction" from these trailblazers.
Based in Boston, USA, Hangout's top notch team blends the talents of game developers with Web programmers to create fun, virtual experiences that are immersive but very easy to use. Hangout is backed by funding from digital media-savvy venture capital firms Highland Capital Partners and Polaris Ventures. Bob Davis, General Partner at Highland and former Founder and CEO of Lycos commented "Hangout makes social networking immersive and fun --addressing a huge untapped opportunity for online experiences and activity." Mike Hirshland, General Partner at Polaris Ventures added "the level of customization in Hangout takes self expression to a new level. With a market of 80 million teens and young adults in the US alone, the possibilities are tremendous."
TechCrunch50 Winner
The first public debut of Hangout takes place today at the prestigious TechCruch50 event in San Francisco. In its selection as a TechCrunch50 finalist, Hangout was one of just 10 companies selected in the uber-competitive "consumer" category. To be selected for TechCrunch50 2008, Hangout stood out among the competition of over 1000 applicants from 49 countries worldwide.
About TechCrunch50
Founded in 2007 by leading technology blog TechCrunch and entrepreneur Jason Calacanis, the TechCrunch50 conference provides a platform for early-stage, and frequently unfunded, companies to launch for the first time to the technology industry's most influential venture capitalists, corporations, angel investors, fellow entrepreneurs and the international media. Companies are selected to participate exclusively on merit. TechCrunch50 is supported by corporate sponsors Google, Microsoft, MySpace, Salesforce, MSN Money, Symantec, Thomson Reuters and Yahoo!, as well as venture capital firms including Sequoia Capital, Mayfield Fund, Clearstone Venture Partners, Charles River Ventures, Founders Fund, Perkins Coie and Fenwick & West.
About Hangout
Hangout Industries is a venture-backed start-up in Boston that is combining the best of the Web and 3D features to create cool new user experiences for teenagers and college students. Hangout users get a far more immersive, synchronous and realistic (read mainstream) experience than the 2D+ worlds, without any of the privacy, usability or scalability concerns that come from trying to download and use virtual worlds like Second Life. Hangout leverages cross platform, browser-based, and Web 2.0 technologies that plug-in seamlessly into Facebook and MySpace to provide kids with a natural on-ramp to far more engaging and immersive social and media experiences with their friends. http://www.hangout.net.
HANGOUT, Hangout.net, and H Hangout.net are service marks of Hangout Industries, Inc. All other trademarks or service marks are property of their respective owners.
###