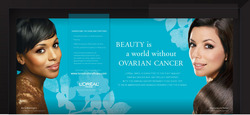 L'Oréal Paris believes that knowing the signs and symptoms of ovarian cancer is a woman's best defense
New York, NY (PRWEB) September 9, 2008
This September, EHE International and L'Oréal Paris are partnering to raise awareness for ovarian cancer. L'Oréal spokeswomen Kerry Washington and Eva Longoria Parker, have joined L'Oréal Paris in the fight against ovarian cancer and will be featured in a public service display on the Plaza in Rockefeller Center in New York City.
The window will be on display beginning in September. September is National Ovarian Cancer Awareness Month and in recognition the window seeks to educate passersby about the disease and its effects on the nearly 22,000 women that will be diagnosed each year. The window at 10 Rockefeller Plaza will feature a compelling reminder of the signs and symptoms of the disease.
Currently, the five-year survival rate for women diagnosed is less than 50 percent, and there is no effective screening method for ovarian cancer. If any of the following symptoms are unexplained and persist for up to two weeks at a time, speak to your gynecologist to conduct further evaluation to rule out ovarian cancer:

Unexplained pelvic or abdominal pain
Bloating
Difficulty eating or feeling full quickly
Urinary symptoms (urgency or frequency)
"L'Oréal Paris believes that knowing the signs and symptoms of ovarian cancer is a woman's best defense," stated Michael Trese, Vice President of External Affairs and Strategic Philanthropy, L'Oréal Paris. "As Rockefeller Plaza is the crossroad for so many visitors to New York City, it is our hope that many will be touched by the campaign's message and share the message with their friends and loved ones."
"We hope to educate people about the disease, and encourage women everywhere to know the symptoms," said Deborah McKeever, President of EHE International.
L'Oréal Paris is dedicated to the cause and has helped to raise in excess of $14 million for the Ovarian Cancer Research Fund (OCRF) over the last decade to advance life-saving research and ovarian cancer awareness. For more information about L'Oréal's commitment, visit http://www.lorealcolorofhope.com.
About EHE International:
Since 1913, EHE International has been a recognized leader in employee and individual Preventive Healthcare Plans (PHP) specifically designed for the early identification of preventable disease and risk factors; clinical management of health findings; referral resources; and personal coaching intervention programs of adverse lifestyle behaviors associated with poor nutrition, physical inactivity, and smoking. Its nationally available PHP is a comprehensive, integrated approach to preventive healthcare for the reduction and management of future medical claims expenses. For more information, contact EHE International, 10 Rockefeller Plaza, 4-th Floor, New York, New York 10020; 212.332.3702; http://www.EHEINTL.com.
About L'Oréal Paris:
The L'Oréal Paris Brand Division of L'Oréal USA, Inc. is a total beauty care company that combines the latest in technology with the highest in quality for the ultimate in luxury beauty at mass. The L'Oréal Paris brand encompasses the four major beauty categories - haircolor, haircare, skincare and cosmetics - and includes such well-known brands as Preference, Excellence and Natural Match haircolors; VIVE Pro, Studio Line, and L'Oréal Kids haircare; Dermo-Expertise skincare, including Advanced Revitalift, Age Perfect, Skin Genesis, Sublime Bronze and Men's Expert; Colour Riche, True Match and Bare Naturale cosmetics collections, a portfolio of mascara including Voluminous, Double Extend and Telescopic among many others, and the HIP High Intensity Pigments line.
L'Oréal Paris is dedicated to women around the world and the company has been inspired to give back and make a difference in their lives. In 1997, L'Oreal Paris made a long-term commitment to raising awareness for ovarian cancer, which continues to build. To date, L'Oreal Paris has helped raise over $14 million dollars to further research and build awareness with fundraising efforts such as the L'Oréal Legends Gala and L'Oréal's annual "Color of Hope" cosmetic and jewelry collections.
Press Contacts:
Michael Trese
L'Oréal Paris
212-984-4101
mtrese @ us.loreal.com
Tara Madden/Patricia Rallis
Clifford | Bratskeir Public Relations
212.358.0800
tara.madden @ cbprusa.com
patricia.rallis @ cbprusa.com
###