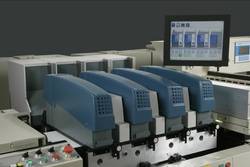 Our new DSI concept offers the label converter the fully flexible means of adopting inkjet technology, and a highly competitive route into the market for short production runs, without the need for investing in a dedicated press
Hillsboro, Oregon (PRWEB) September 9, 2008
LabelExpo 2008 sees the official unveiling of the Stork Prints DSI (Digital Systems Integration) module powered by Piezo inkjet technology first previewed at DRUPA 2008. "Our new DSI concept offers the label converter the fully flexible means of adopting inkjet technology, and a highly competitive route into the market for short production runs, without the need for investing in a dedicated press" according to Bert Grootjen, Program Manager Graphics at Stork Prints Group. "The use of Phoseon's SLM™ UV LED Curing technology is an important technology element of the DSI product and shows our commitment to providing our customers with innovative technology solutions".
Stork Print Group's new DSI module offers ease of integration and full platform independence. Not only can the unit be installed at any position in the printing sequence, but it is also perfectly compatible with the latest generation printing systems from the world's main narrow web press manufacturers.
The DSI systems utilize Phoseon's Semiconductor Light Matrix™ technology which combines a dense array of light emitting semiconductor devices (UV-LED), with high tech micro optics and micro cooling in a cost-effective MOEMS (micro opto electro-mechanical system) package. SLM™ Technology offers low cost of ownership, low energy consumption, increased productivity and long lifetime. Phoseon's RX Series of SLM™ based UV Light Systems provide significant advantages over traditional lamp systems for various applications, including inkjet printing, coatings, adhesive curing, and many more.
The DSI Inkjet Module utilizing Phoseon's UV Curing Technology can be seen at the Stork Prints booth 529 at LabelExpo 2008. The Expo is located the Donald E. Stephens Convention Center in Rosemont (Chicago) IL from September 9th to September 11th 2008.
###