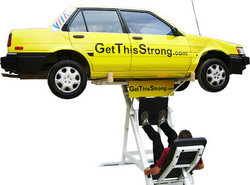 I've never been a hard-core bodybuilder. For me, lifting weights is a means to get stronger so that I can do something I enjoy outside of the gym
Boise, Idaho (PRWEB) September 10, 2008
When he settles into the custom-built leg press machine Pete Sisco will not prepare to lift traditional weights. Instead, the fitness industry author of multiple best-selling books on bodybuilding will face a different challenge - leg pressing a Toyota Corolla sedan.
It's not the first time he has lifted a car with his legs. Anyone, Sisco says, can get strong enough to leg press a car thanks to static contraction training. In fact, his 16 year old son, Jeff, was also able to lift the Toyota after only 45 seconds of total training time.
"In the principle of static contraction training, muscles are forced to generate their maximum possible output by limiting the range of motion to the very strongest position and therefore using the highest possible weight," says Sisco. "The duration of each exercise is reduced to the minimum (five seconds) so resistance can be increased to the maximum. There are no reps, just a static hold.
"Simply put, limiting the range of motion in an exercise is an effective way to increase intensity," he adds. "Basically, you gain more muscle lifting 400 pounds a few inches than you do by lifting 100 pounds through your full range of motion."
Sisco is the co-author of Power Factor Training, Static Contraction Training and several bestselling e-books, most recently the e-book Get This Strong (http://www.GetThisStrong.com).
"I've never been a hard-core bodybuilder. For me, lifting weights is a means to get stronger so that I can do something I enjoy outside of the gym," says Sisco. "I started researching ways I could significantly increase my strength spending the least amount of time." Sisco approaches weightlifting with a view from math and physics, subjects he studied in college.
"In the realm of physics, if you lift 200 pounds six inches it is the same amount of work as lifting 400 pounds three inches and 800 pounds 1 ½ inches. But in the gym the heavier weight is more important than the distance you move it," he adds. "I started measuring how much weight you can lift in a minimal time, and that led to technique of static contraction training. Initially, we had test subjects hold the weight for 20-30 seconds. Eventually we discovered that you can hold the weight for just five seconds and still get maximum benefit."
Intensity and recovery time are two important elements of static contraction training.
"First, you need to know the very best exercises for delivering the highest overload to each muscle group. Then you need to use those exercises in the best possible way to maximize overload and minimize the time spent doing it," Sisco explains. "Short workouts are more beneficial and efficient than long workouts. And the more intense your workouts are, the more rest you need between workouts.
He decided to leg press a Toyota Corolla to demonstrate the effectiveness of static contraction training.
"It is understandable if people are skeptical when I tell them I can leg press 2,500 pounds, so instead of telling them, I thought it would be interesting to showcase the concept of static contraction training by lifting a car, since people can relate to a common object better than to an abstract number. And if he trains rationally, anyone can get this strong." Sisco said.
Media Contact:
Susan Wilson
(http://www.GetThisStrong.com)
208 629-5497
Susan_Wilson @ Me.com
###