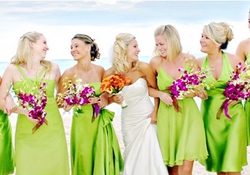 Dallas, TX (PRWEB) September 10, 2008
Tying the knot is one of those unique occasions that is planned out to the finest detail, from the flavor of icing on the cake to number of flower petals in each bridesmaid's hair. Okay, some brides plan a little too many details, but regardless, weddings are typically one of the most highly coordinated events in human nature.
Thus, it would come to no surprise that the Age of Information has prompted brides & grooms to hop online to plan what could be the biggest day of their entire lives. Particularly in the United States, where individualism and independence run strong, calling on a wedding planner to take care of all the details has fallen on the wayside. Thanks to the Web, planning a wedding doesn't have to be an outsourced job anymore.
These days, the wealth of information available on the Internet has brides-to-be eagerly surfing for their wedding planning needs. Every vendor is out there trying to reach out to potential customers, but with the resources so vast, it can be really difficult to find the ideal wedding vendor for your needs.
That's where Strictly Weddings, a new site for Dallas weddings, takes a different approach to online wedding planning, by simplifying the search. Strictly Weddings showcases the top 3 vendors in 21 categories, which offer the highest levels of service, elegance, quality, and attention to detail (criteria are based upon consultation with experts in the industry). The end result is an easier site to navigate and choose vendors, a vast difference from competitor wedding sites which feature hundreds of vendors all contending for your attention, making the wedding planning process all the more time-consuming and stressful.
Being that approximately $75 billion dollars are spent on weddings alone each year in the States, this is an industry that is certainly alive and well. Plus, with the 21st century's total embrace with social marketing, sharing ideas and advice has never been easier. Wedding planning is no exception, and sites like Strictly Weddings show through their blog and "ask us" section that the online discussion between brides is a highly valued resource for coordinating a wedding. After all, the best way to plan an event as important as a wedding is to learn from other's mistakes, and hope for the best.
To learn more about Strictly Weddings, visit the Dallas wedding site and the Dallas wedding blog. Apart from Dallas, Strictly Weddings will also soon open in Chicago, New York and LA, bringing its unique approach to a national scale.
###