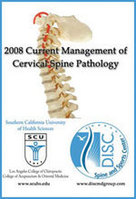 The scope of the symposium provides a robust curriculum featuring the most current thoughts on cervical spine care.
Marina del Rey, Calif. (Vocus) September 9, 2008
Current Management of Cervical Spine Pathology, Trauma and Commonly Missed Diagnoses, a two-day symposium designed specifically for chiropractors and allied health professional by D.I.S.C. Spine and Sports Center and Southern California University of Health Sciences is now available for purchase as a 10-hour DVD set for $59.95 on the D.I.S.C. Website at discmdgroup.com. The symposium features the country's leading spine and pain management physicians, radiologists and chiropractors in a multi-disciplinary approach to this important aspect of healthcare.
"This comprehensive program is unmatched in the quality of information that is being presented in one easy to use reference source," said Dr. Joseph Horrigan, DC, DACBSP, director of the Soft Tissue Center at D.I.S.C. "The scope of the symposium provides a robust curriculum featuring the most current thoughts on cervical spine care."
The topics covered include: myelopathy, instability, Chiari malformations, concussions, TMJ pathology, imaging, cervical manipulation and vertebral artery dissection, chronic regional paid syndrome, nutritional management of acute injuries, spinal tumors and infections, new technology for single level fusion, gross disc pathology, cervical mobilization and other diagnoses that shouldn't be missed, as well as co-management of acute radiculopathy and co-management of difficult failed pain management cases.
The symposium was co-moderated by Dr. Robert S. Bray, Jr., the CEO and founder of D.I.S.C. Spine and Sports Center who is one of the country's preeminent neurological spinal surgeons and has been a pioneer in the field of minimally invasive spinal surgery along with John G. Scaringe, DC, DACBSP vice president of academic affairs at SCUHS.
About DISC:
Established in 2007, by Dr. Robert S. Bray, Jr., D.I.S.C. is redefining patient care by providing a multidisciplinary center that provides a full spectrum of services conveniently housed under one roof for an unmatched continuity of care. Specializing in spine, sports and orthopedic ailments, D.I.S.C. offers next generation diagnostics, conservative care, pain management and interventional treatments.
The state-of-the-art surgical center, considered among the finest in the country, recently announced it was "infection free" after 18 months of operation and more than 1,200 procedures. The D.I.S.C. Surgical Center specializes in minimally invasive spine procedures and advanced arthroscopic techniques. Bringing together the expertise of a variety of board certified fellowship-trained specialists from the fields of neurosurgery, orthopedic surgery, physical medicine, pain management and chiropractic care along with physicians specializing in alternative treatments of acupuncture and oriental medicine, the D.I.S.C. team is committed to an unsurpassed level of personal, compassionate care, driven by the most current technology, research and education. More information is available by calling 310.574.0400 or toll free at 866.481.DISC (3472) or visiting their website at: http://www.discmdgroup.com.
About SCUHS:
For nearly a century SCU has trained men and women for successful and significant careers in patient care. The rigorous, hands-on approach to education has led to unparalleled recognition by accrediting agencies and tremendous success for alumni in their careers. SCU has the curriculum, faculty, and facilities necessary to help students evolve into the natural healer they long to be. SCU is located on a beautiful 38-acre campus in Whittier, California, about 20 miles Southeast of Los Angeles and on the border of Orange County. Students enjoy a quiet suburban atmosphere and the advantages of being near a large city. More information is available by calling 562.947.8755 or toll-free 800.221.5222 or by visiting their website at http://www.scuhs.edu.
###