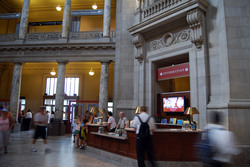 We are excited with the results of the project and believe we have created a new standard for using www.openeyeglobal.com [digital signage] as a wayfinding tool.
South Amboy, NJ (PRWEB) September 9, 2008
OpenEye recently announced that is has completed work on the development of a dynamic digital wayfinding system for the National Museum of Natural History at the Smithsonian Institution in Washington D.C. The project was a joint effort between OpenEye, Launch DM, FITCH and 3M Digital Signage.
"This was a great opportunity for us to work on a high-profile project," said Bryan Meszaros, Chief Business Development Officer & Founder of OpenEye. "We are excited with the results of the project and believe we have created a new standard for using digital signage as a wayfinding tool." The wayfinding concept engages visitors through strategically placed digital displays and dynamic digital content designed to educate, inform and direct the visitor to various activities and exhibits within the museum.
Formed in 2003, OpenEye has positioned itself as a global digital signage agency having completed projects in the United Sates, New Zealand, Indonesia, Australia and Malaysia. Since the beginning, OpenEye has seen continued success having worked with such clients as HESS Corporation, Regency Duty Free and Life Pharmacy. In 2006 OpenEye was selected by U.S. based Sovereign Bank, the nation's 19th largest financial institution, to develop a digital signage solution. "Sovereign presented us with a challenge to develop a new in-branch communications tool that would help them communicate with their customers," said Brian Chan, Digital Signage Services Manager at OpenEye. OpenEye continues their relationship with Sovereign, and the solution they developed has been integrated into 50 branches throughout the bank's Northeast footprint.
Continuing on OpenEye's efforts in the Digital Signage Industry, Bryan Meszaros has recently been selected to sit on the Digital Signage Expo's Advisory Board and POPAI's Panel of Experts for their new Digital Signage Blog. "I'm excited to have an opportunity to become more involved in the growth of the Digital Signage Industry," said Meszaros. Bryan is also schedule to speak at the upcoming Digital Signage Expo in Philadelphia on September 16, 2008 and at the Digital Graphics International Conference this November in Dubai.
About OpenEye:
Based in New Jersey, OpenEye is a leading digital signage agency that specializes in the strategy and development of Digital Signage Applications. OpenEye has developed solutions for HESS Corporation, The Nuance Group and Sovereign bank.
For More Information:
http://www.openeyeglobal.com
Bryan Meszaros
bmeszaros @ openeyeglobal.com
877 881 1322
###