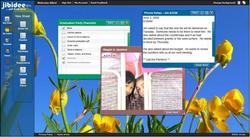 San Francisco, CA (PRWEB) September 10, 2008
Jibidee.com (http://www.jibidee.com), an innovative new website that gives users a place to organize and privately share the little stuff in their life, launches publicly this week from the Demo Pit at Techcrunch50 in San Francisco, CA. In its second year, the TechCrunch50 conference (http://www.techcrunch50.com) showcases the most promising new web startup companies in the world based on merit. This year Jibidee was selected as a semi-finalist for Techcrunch50 from over 1,000 applicants from 49 countries.
Jibidee allows users to create and privately share the mini-documents of life such as simple lists of anything, notes, pictures, and scanned documents. Jibidee is different than other productivity sites such as Google Docs in that it is geared toward personal home use, designed for smaller, less complex documents and allows for a more personalized and colorful user experience. Built with Adobe Flex, Jibidee simulates a Windows or Mac desktop experience but inside the Internet browser...a webtop.
Jibidee was born out of the founder's frustration with not having a good place to write down and privately share little things like a list of vacation ideas, babysitter checklist, favorite restaurants, things to do this summer, notes from a phone call, home inventory, things I'm saving for, golf courses I want to play, softball team schedule, recipes, meals tracker, doctor appointment notes, life goals, list of websites for kids, party planning checklist…all the little stuff we either scribble on scattered notepads or never write down but wish we had.
Jibidee also allows for uploading and private sharing of pictures and scanned documents and includes over 90 pre-started templates. Jibidee is free up to 20 sheets with unlimited sharing, $18/year for unlimited sheets. Jibidee is headquartered in Tampa, FL. For more information, please contact Allen Clary at allen @ jibidee.com.
###