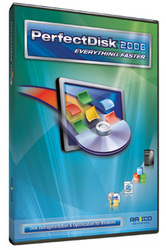 Gaithersburg, MD (Vocus) September 10, 2008
Raxco Software, the leader in disk defragmentation software, confirmed today that its PerfectDisk® 2008 is the only disk defragmentation utility that places the Master File Table (MFT) on disk drives where an additional 10% - 15% performance improvement can be realized on NTFS drives.
The MFT is typically placed at the start of the disk space available to the file system. In Windows XP and later versions of Windows®, Microsoft® has determined that performance can be improved by up to 15 percent by placing the MFT 3 gigabytes further into the disk space. PerfectDisk takes advantage of this Microsoft recommendation and places the MFT on the drive accordingly. No other disk defrag utility provides this performance enhancement.
Winner of numerous awards, including Windows IT Pro Editors' Choice award, Windows IT Pro Readers' Choice award, Redmond Magazine's Best of the Best, PC Magazine's Editor's Choice, and top-rated 5 stars from CNET editors and About.com, Raxco's PerfectDisk answers the unique needs of users in the enterprise, SMB and home office environments.
About Raxco Software
Raxco Software has been helping large enterprises, small businesses, and consumers with their computer resource management needs for thirty years. Its PerfectDisk 2008 is Windows® Certified by Microsoft® for Vista and Windows Server® 2008, and optimized for Windows XP. The PerfectDisk line has a long award-winning history, most notably its perfect 5-star review from CNET Download, winner of the Windows IT Pro 2005, 2006 Readers' Choice Awards for Defragmentation Utility and Storage Management Tool, Redmond Magazine's Best of the Best Award, and PC Magazine's Editors' Choice award. Raxco also produces optimization software, for HP's OpenVMS operating system. Raxco Software can be found on the Web at http://www.raxco.com.
Contacts:
Sherry Murray
Raxco Software, Inc
301-519-7836
smurray @ raxco.com
###