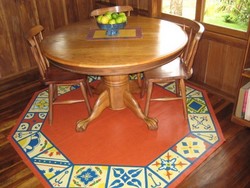 Santa Barbara de Heredia, Costa Rica (PRWEB) September 22, 2008
Laurel Anderson's design and manufacturing business, Laurel's Originals, has recently introduced a new product line of hand-painted canvas floor rugs for home, hotel and businesses.
When tourists began arriving in Costa Rica twenty-five years ago, a young California native, Laurel Anderson, recognized an opportunity and seized upon it with hand-painted designs of the country's flora and fauna onto t-shirts, dresses and canvas tote bags.
Laurel was then living in Cahuita, on Costa Rica's Caribbean coast, and sold mostly to the tourists in the area. Over time, and while raising a family, the independent, spirited entrepreneur expanded her small craft business, Laurel's Originals , to meet the growing number of souvenir stores throughout the entire country. And the rest, as they say is history.
But not quite.
Although tourism continues strong in Costa Rica, another aspect to the local economy is the advent of high-end hotels, condominiums and custom homes. Four Seasons, Ritz Carlton, the Jack Parker Development and many others have been dazzled by the beauty of the country, thus placing their own footprint upon her sands and shores.
Looking for ways to expand her souvenir design and manufacturing business the savvy entrepreneur wanted to maintain the hand-painted design aspect; she researched and spent months designing and fabricating hand-painted canvas floor rugs, tropical decor and wall hangings. Soon, local businesses began ordering canvas rugs with custom logos; it wasn't long before her clientele expanded with hotel interior decorating with boutique hotels and Eco-minded resorts.
"My goal is to work with interior decorators to establish a custom, unique service to this growing facet of the country with hand-painted textiles for home and hotel decor," exclaims Laurel.
And that idea is beginning to take off, with requests from the USA, Mexico, Argentina and Brazil, for interior accessories such as duvet and pillow covers, curtains, large and small area rugs, place mats, and wall hangings. The design ideas continue, she confessed, often keeping her awake at night.
Laurel's entrepreneurial spirit and enthusiasm for design is contagious. She loves sharing ideas and working closely with her customers and does what few others bother with in this country: meets her deadlines. The workshop, located on her farm in the mountains north of the capital city, employs a team of local ladies and their families with whom she's been working for years and is as devoted to them as she is to her own family.
For a woman entrepreneur with a small business in a culture rich in so many ways yet challenging in others, Laurel continues to blaze her artistic trail throughout Costa Rica and beyond with unique interior design for home and hotel.
###