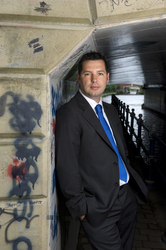 I want to know if I make a decision to invest - whether it be time or money - that it's in the right thing, and if something doesn't tick those boxes I will not waiver.
Manchester, Greater Manchester (PRWEB) September 11, 2008
Yorkshire Entrepreneur Gavin Wheeldon is worth £20 million. At 14 he was already a gifted salesman, at 20 he set up his own company, and he now owns a hugely successful translation business - Applied Language Solutions.
But he left his millionaire's lifestyle behind for Channel 4's Secret Millionaire to return to the faded North Wales resort where he spent his childhood holidays. The programme will be shown on Tuesday, September 16th at 9.00pm.
Rhyl has gone downhill since the advent of the cheap package holiday, with unemployment and poverty rife. Working undercover Gavin lived on an allowance in a B&B while searching for local people he could help.
Always entrepreneurial, Gavin Wheeldon, 32, started work at an early age - with gardening and window cleaning jobs. At 14 he was selling kitchens and, despite being underage, was kept on by the company because he was the best salesman they had. By the time he was 20, Gavin had set up his first IT company and four years ago he started a translation company despite not being able to speak any foreign languages.
Gavin's mum, Denise, says - 'My nickname for Gavin was our little Arthur Daley, my dad always said if he didn't end up behind bars he'd end up making a fortune!'
Gavin did, in fact, end up making a fortune: his company is now worth more than £20 million, but Gavin has bigger plans - once his translation company has achieved global domination he wants to be prime minister!
"I went into this with the belief that people want to work themselves out of their troubles, rather than expecting handouts, as we are sometimes led to believe in the media. I fully believe that, If you're prepared to do something yourself, I'm prepared to help you."
Gavin featured on BBC 2's Dragons' Den last year, looking for backing to expand his business. He failed to get backing, but Applied Language Solutions has gone on to prove Gavin right and the Dragons wrong.
Gavin's own background was relatively humble. He grew up in the North West and his family moved around a lot, following his dad from job to job. Money was always tight and Gavin was no angel. One of the few luxuries the family enjoyed were summer holidays at the seaside, usually in Rhyl on the north Wales coast.
In the programme Gavin returns to Rhyl to live undercover for ten days on an allowance in a B&B in West Rhyl, the most deprived wards in Wales with one of the highest poverty rates in the country. He'll find volunteer work in the local community and look for people he can help.
Gavin explains: "Having not had a traditional up-bringing, I can understand the difficulties young teenagers face in entering the workplace. I wanted to spend my time in Rhyl seeking out organisations that work with young kids to develop their key skills and help build their confidence with the aim to prepare them for employment."
Rhyl was a booming holiday destination in the 1960s - known as 'sunny Rhyl' - but cheap foreign holidays killed off the tourist trade and the town went into decline.
In the twenty years since Gavin went there on holiday, the town has changed beyond recognition. As soon as Gavin sets foot in Rhyl, people paint a grim picture of the town, with unemployment and poverty rife.
Gavin meets Nigel and Tony, from the West Rhyl Community Company, who have worked hard to transform a no-go area into somewhere safe and clean by encouraging locals to take ownership of their environment.
They also play a vital role in making residents feel safe and Gavin joins them on their rounds, helping locals paint and giving elderly residents a hand with furniture removal. But funding for Nigel & Tony's jobs runs out next year and local residents fear without them the area would get worse again.
Elsewhere Gavin finds local landlady Geraldine, who has been helping to re-house young homeless people for the last ten years. Known as 'Street Mum', she has opened the doors of her guesthouse to some of Rhyl's most vulnerable people, such as 18-year-old Mel who, despite having to stay with Geraldine after a family breakdown, is determined to get an education against the odds.
Geraldine has also set up a scheme to help local young people to get better homes by re-decorating run-down properties. But Gavin is keen to try to bring some of his sharp business sense to bear on Geraldine's well-meaning projects.
"I want to know if I make a decision to invest - whether it be time or money - that it's in the right thing, and if something doesn't tick those boxes I will not waiver."
Meanwhile Gavin comes across the Palace Boxing Club, where he meets 75-year-old ex-boxer and trainer Jack. Jack tries to keep local lads away from pubs and drugs. It's his spirit and enthusiasm that keeps the club alive, but enthusiasm won't pay for new gloves; the clubs equipment is old and there's no money to renew the gear, which is falling to pieces.
After ten days undercover, and inspired by the fighting spirit of all the people he's met, it's up to Gavin to decide who most deserves a slice of his hard-earned fortune.
Inspired by the fighting spirit of all the people he's met, Gavin's gifts recognize the people who, against the odds, have succeeded in bringing such a strong sense of community to Rhyl.
Gavin says: "The whole experience was fantastic and has been a definite learning curve for me. Initially I didn't know what to expect, but after spending ten days living amongst the people of Rhyl, I realized just how many people there are solely driven by helping others with no personal gain, whatsoever.
"This has given me the opportunity to work with some incredibly selfless people. Being given the opportunity to help the schemes and individuals was a privilege. I hope to continue working with all of the people that I have met and just to continue offering advice or guidance in any way I can."
To get a free translation quote go to Applied Language Solutions
###