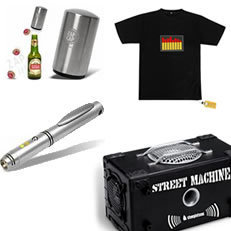 (PRWEB) September 11, 2008
In just a few weeks time, some half a million students will flock to their new universities, celebrating with none other than a week of drinking and partying.
In order to survive this merciless period of loud music, alcohol and 'Fresher's flu', I Want One Of Those have put together a list of gadgets and gift ideas to make the week go by with more fun and less disasters…The gadgets:
Street Machine Ipod Boombox:
Fresher's week wouldn't be the same without those impromptu gatherings and parties. Thankfully the iPod boombox has arrived, and is a great way of getting loud music and plenty of bass to said parties, without lugging round a load of DJ equipment.
Inspired by the classic 80's boombox but with the technology of the naughties, the iPod boombox is also ultra portable, with wheels and a retractable handle -- and the sound quality is loud and clear.
Zapcap bottle opener:
Every student will need a bottle opener, so it may as well be a stylish one.
The zapcap is a quicker, more entertaining -- and deeply satisfying approach to bottle opening. Just place the whole contraption over the bottle top and zap it down with the flat of the hand to lift off the cap in one action.
Alcohol breath tester:
This nifty little gizmo is an ever-ready portable breath tester that will tell the student if their alcohol content is over 0.25mg/l. Simply blow in the end, and if the user is over the limit, a red LED goes on, and it's the bus for them.
Sonic Boom Alarm Clock:
Despite the bizarre yet admirable decision to have no lectures for the first week of uni, some scholars may actually wish to rise in time for breakfast. If not, it'll be essential for lectures the next week anyway.
As its name might begin to suggest, this revolutionary reveille machine will wrench even the terminally hibernating from their slumber -- complete with a staggeringly loud alarm and vibrating attachment to go under the pillow.
T-Qualizer T Shirts:
Although admittedly far from essential, the tqualiser is a perfect fit for Fresher's week, bearing in mind much of it will be spent in a dark room within the presence of terrifyingly loud music.
Complete with it's very own discreet battery pack, the equalizer on this electro-luminescent t-shirt actually lights up to the sound of the music, making it the coolest t-shirt in the club.
All of these gift ideas and more are available at I Want One Of Those.
###