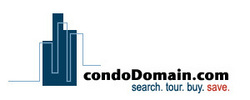 Each market is incredibly unique. By partnering with passionate leading market experts like Keith Smith, we are growing our network and brand as a top-notch buyers' brokerage firm in each city
Boston, MA (PRWEB) September 10, 2008
CondoDomain.com is pleased to announce the launch of their web-based, flat fee real estate brokerage in the Dallas, Texas marketplace.
This is the second market launch for CondoDomain.com as they expand into their pre-existing 33 U.S. markets as a web-based buyers' brokerage focusing on urban properties and new construction condominium developments.
Keith W. Smith has been named the Southwest & City Vice President for the Dallas marketplace and will now be in charge of all of the real estate brokerage in the Dallas/Fort Worth area. With over twenty years of experience, Smith is a valuable resource for buyers in the Dallas marketplace.
"We are very excited to join the CondoDomain.com team and to infuse the local Dallas market with this new web-based buyers' brokerage business model," says Smith. "The Boston team has proved the business model to be an instant success. With the positive response from buyers, the flat fee model makes all the sense in the world for educated individuals looking to share in the search and compare process and to be rewarded by receiving a large rebate of the brokers' commission."
A web-based buyers' brokerage company offering full, buy-side services for a flat fee, CondoDomain.com LLC has given back more than $300,000 in refunds to their clients in Boston so far this year. On average, clients have received more than $13,000 at closing. As an innovative and forward-thinking company, CondoDomain.com continually implements the latest technology components into their platform to bring all real estate-related data, without exception, to the surface so clients can get a transparent and complete view of each property.
Utilizing the cutting-edge search platform, site users are able to browse the entire website for Dallas Condos and luxury Dallas real estate. Here they will find every MLS listing, every new development and existing luxury building, foreclosure listings, FSBO (for sale by owner) properties and even upcoming auctions.
"Each market is incredibly unique. By partnering with passionate leading market experts like Keith Smith, we are growing our network and brand as a top-notch buyers' brokerage firm in each city," says Brian-Logan Reid, National Director of Real Estate at CondoDomain.com. "The timing could not be more perfect for us to roll out our alternative brokerage model, giving consumers a choice and an opportunity to save money during a time when they need it most."
About CondoDomain.com
CondoDomain.com is a web-based real estate brokerage based in Boston, MA. The company is expanding nationwide to offer its buyers' brokerage services in more than 30 cities around the U.S. Currently operating in Boston and Dallas, CondoDomain offers an innovative flat-fee business model allowing the majority of the commission to be refunded to the buyer. By combining up-to-date MLS feeds, new construction buildings, FSBO, Foreclosures, Lofts and Auction listings all on one site, CondoDomain has become one of the most popular and user friendly real estate websites available. CondoDomain.com offers a 100% satisfaction guarantee to all of its clients, ensuring a professional, efficient, and pleasant transaction. Visit http://www.CondoDomain.com for more information or feel free to dive into our blogs at http://www.CondoDomain.com/Blog.
# # #