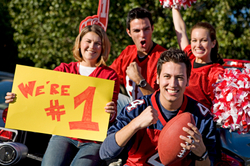 Foul-smelling flatulence is related to the breakdown of actual foods as they go through the intestinal tract
East Longmeadow, MA (PRWEB) September 10, 2008
It's time to rethink what's cooking at the tailgate party when the "exhaust fumes" are coming from you, not the parked car. Intestinal gas is one of the body's most embarrassing functions, especially when the sound isn't muffled by cheering fans and the odor is pungent. In fact, according to a recent survey for CharcoCaps Homeopathic AntiGas Formula, 72 percent of adults nationwide admit to passing gas in public or in front of someone else.
Most pre-game celebration fare -- hamburgers, baked beans and alcohol -- have a tendency to trigger intestinal gas. Dr. Patricia Raymond, M.D., gastroenterologist and assistant professor at Eastern Virginia Medical School, says "we all experience flatulence. Yet, we can get it under control if we slightly change our diets -- even at a tailgate party."
Her tips to minimize the impact and odor include:
•Certain Foods in Moderation: High gas-producing foods that are staples at a tailgate party are hot dogs and hamburgers (fatty meats), baked beans, coleslaw (cabbage), and alcohol. When thinking about dessert, ice cream and pastries are also high-gas foods. Less gassy alternatives include grilled chicken, angel food cake and low-fat frozen yogurt for dessert.
•Determine Odor: Non-smelling flatulence results from swallowed air, symptomatic of chewing gum, drinking through straws and sucking on hard candies, rather than something you ate. "Foul-smelling flatulence is related to the breakdown of actual foods as they go through the intestinal tract," says Dr. Raymond. "If nutrients are poorly absorbed, they 'feed' bacteria in the gut, which then produces smelly flatulence."
•Deactivate Gas with Activated Charcoal: Dr. Raymond suggests taking CharcoCaps Homeopathic AntiGas Formula as a natural and safe way to control embarrassing flatulence while with family and friends at a tailgate. Carbo vegetabilis (activated charcoal), the main ingredient in CharcoCaps, is commonly used by people suffering from gas discomfort, pressure and bloating. It helps stimulate and support the body's own defense system against the discomfort of intestinal gas and the embarrassing/ uncomfortable symptoms associated with it. Just five grams of activated charcoal has the same surface area as an entire football field.
•Walk it Off: Instead of keeping still during the game, take a half-time stroll to keep your body moving and the gas flowing. "The gas just sitting in the bowels causes distention and pain, so once you have it, you might as well mobilize it," says Raymond.
For additional information or a chance to win a monthly pre-paid gas(oline) card (while supplies last), visit http://www.charcocaps.com and take the Gas Etiquette Quiz.
###