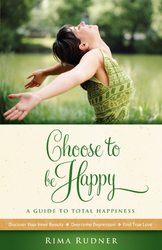 The Complete Guide to Decorating Your Home.
Pacific Palisades, CA (PRWEB) September 10, 2008
Once a successful interior designer to celebrities, author Rima Rudner saw firsthand that fame and fortune does not bring happiness. Rudner says she figured out the secret of happiness after overcoming her own life traumas of bladder cancer, a ski accident, spinal meningitis, a drug-addicted daughter, and much more. "There is no secret," says Rudner. "Happiness is a choice."
No nonsense, insightful and funny, Rudner teaches how to reverse the self-defeating habits and behaviors that are sabotaging our happiness, including how to:

Stay happy in a chaotic, unstable world
Overcome guilt, fears, and worries and learn to forgive
Stop comparing your life to others and seeing yourself as a victim
Move beyond depression and jump-start your motivation
Recognize the toxic types who sabotage your life, like the "Prophet of Gloom," the "Flake," or the "Giant Octopus."
Call or email anytime to set up an interview or for a review copy of Rudner's new book. For more information visit http://www.choosetobehappy.net.
About the Author. Happiness coach Rima Rudner has learned to triumph over many adversities and, as a result, has created her successful happiness program. She is the author of "The Complete Guide to Decorating Your Home." She has also written many comedy routines, screenplays, sitcoms, children's and young adult books, and self-help books. She was recently the featured the 2008 Sundance Women's Retreat and conducted Happiness Day. Rudner lives in Pacific Palisades with her husband, Harvey, and her demanding Airedale, Charley.
Rudner will be speaking and signing books at:
Barnes and Noble Santa Monica, 3rd Street Promenade : Sunday, September 14 -- 2 pm
Barnes and Noble Calabasas, The Commons, 4735 Commons Way: Saturday, October 11 -- 1-5 pm
###