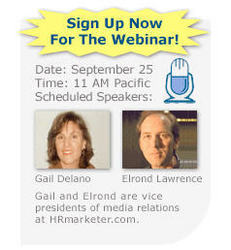 Capitola, CA (PRWEB) September 10, 2008
An ongoing public relations program should be a critical component of an overall marketing program. However, some companies don't know where to begin or what components to integrate into a PR program.
A webinar by HRmarketer.com, PR 101: Get Your PR Program off the Ground, will outline the basic components needed for a successful and continuing PR program. The webinar is scheduled for Thursday, Sept. 25 at 11 a.m. Pacific time.
Gail DeLano and Elrond Lawrence, vice presidents of media relations at HRmarketer.com, will host the webinar. Both bring nearly 40 years combined public relations experience to the public relations team at HRmarketer.com.
DeLano and Lawrence will provide tips for developing targeted media lists, planning announcements, writing press releases and distributing press releases. For additional information on the webinar and to register, visit https://www1.gotomeeting.com/register/461766348.
About Fisher Vista, LLC:
HRmarketer.com is a service of Fisher Vista LLC, a marketing and information services firm focusing exclusively on the human capital industry. Through its marketing and public relations services, the company has serviced nearly 500 human resource and employee benefit service providers, helping them generate publicity, website traffic, sales leads and improved SEO.
This press release was distributed through eMediawire by Human Resources Marketer (HR Marketer: http://www.HRmarketer.com) on behalf of the company listed above.
###