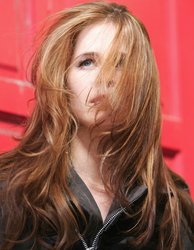 If you date me, you'll probably find yourself woven into a song or two.
Hollywood, CA (PRWEB) September 10, 2008
Fresh, brash, sassy, Jenn's offbeat sense of humor allows her to write music that looks at life in a unique way that we all appreciate but few can articulate.
Dean from Perfect Beat says, "Fabulous, intelligent new dance pop single, custom made for club and radio play! One listen and we're already in love with Jenn. She's not just a pretty face but a seriously talented singer and songwriter whose debut single sounds like a bona-fide smash. Cleverly tongue in cheek lyrics (with a nod and a wink to Madonna) take flight on a terrific, Euro-tipped dance production that's sent soaring by the masterful Dave Aude remix...there's also a...sizzling...retro mix from Twisted Dee. Additional mixes from Sherooz aim for some electro punches just to make sure that all the trendy dance bases are covered. OOOOeeeee and then some."
Universal has signed on to do complete digital distribution of the maxi cd with 6 remixes by some of the nations leading DJ's . Expect it to be available by September 16th.
Jenn's laid back style reflects her upbringing along the Central coast of California where long walks along the beaches in Monterey inspired her to write about things as she experienced them. Her family recognized early on that she had a way of putting words together that just evolved into song lyrics. She writes about how she feels and what she knows. She laughs and cautions that, "If you date me, you'll probably find yourself woven into a song or two."
Take a listen and see if you don't agree that Jenn Frederick is a rare talent that doesn't fit neatly into a conforming box. "I Shoulda Been Blonde" is just the beginning. Anticipation is the watchword for the followup.
###