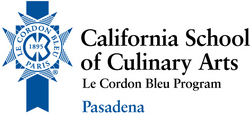 Working the MTV Music Awards is a great way for students to prepare for a career. For many it is a once in a lifetime experience
Los Angeles (Vocus) September 10, 2008
California School of Culinary Arts (CSCA) students and alumni from Pasadena and Hollywood campuses teamed up with the 25th Annual MTV Music Awards to assist with preparations for an exotic Mediterranean menu that served more than 1,500 musicians who attended the star-studded event.
Approximately 40 CSCA student chefs and alumni worked with Michael Bowen, executive chef at Paramount Studios, and other key chefs to prepare the ingredients for the many dishes that were served at the awards show on September 7. The CSCA crew assisted with plating, chopping, prepping and carving for Sunday's festivities, rotating between morning, afternoon and evening shifts over the five days leading up to the show.
Students from CSCA, who are trained in the world-renowned Le Cordon Bleu techniques taught by CSCA chef instructors, have assisted with many high-profile entertainment industry events, including the prestigious Governor's Ball following the Oscars.
"Working the MTV Music Awards is a great way for students to prepare for a career. For many it is a once in a lifetime experience," said Rebecca Marrs, CSCA director of career services.
The menu consisted of a Mediterranean array of dishes which ranged from French to Moroccan cuisine. Some highlights from the menu included, Kafka tangier, Moroccan style meatballs, studded with fresh preserved lemon, parsley, mint, coriander & scallion served with a cool cucumber yogurt sauce and Rosemary Crusted chilled beef tenderloins, served with crusty pieces of split ciabatta.
About California School of Culinary Arts
California School of Culinary Arts (CSCA) was established in 1994 in Pasadena, Calif., and formed a partnership with the internationally renowned Le Cordon Bleu. With campuses in Pasadena and Hollywood, CSCA is an affiliate of Le Cordon Bleu Schools North America – one of the largest providers of quality culinary arts education. Accredited by the Accrediting Council for Independent Colleges and Schools, CSCA offers the prestigious Le Cordon Bleu education through four different degree and diploma programs in Culinary Arts, Pâtisserie & Baking and Hospitality and Restaurant management. California School of Culinary Arts is a member of the Career Education Corporation (NASDAQ:CECO) network of universities, colleges and schools. For more information, go to http://www.csca.edu.
Media Contact:
Abbie Rumery
(310) 496-4456
Abbie @ allisonpr.com
###