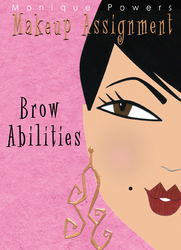 Makeup Assignment: Apply. Blend. Create.
BEVERLY HILLS, CA (PRWEB) September 16, 2008
A new instructional makeup DVD will soon be available for female cancer patients who want to learn and master the proper technique to recreate her own eyebrows because she is experiencing temporary or permanent eyebrow hair loss . Monique Powers, creator and host of "Makeup Assignment: Apply. Blend. Create." is releasing her second DVD in the series this October entitled, " Makeup Assignment: Brow Abilities". This DVD teaches women how to create, groom and maintain her very own eyebrow shape even if she has none or very little.
Viewers are encouraged to follow along as they learn: 1) The proper structure of the perfect eyebrow shape; 2) How to fake a full eyebrow; and 3) How to get the most efficient use of familiar eyebrow tools and products, plus much more. " Makeup Assignment: Brow Abilities" is the only lesson needed for those who desire to learn the art of professional eyebrows shaping and grooming. The lessons are especially helpful for cancer patients that have lost their eyebrows due to treatment.
Recognizing her creative passion at the age of thirteen, Monique's love of beauty has since developed into a need to help women look and feel their best. Since packing up her brushes and moving to Los Angeles, Monique has devoted her time, talent and energy to show women how to turn facial flaws into fabulous features.
The "Makeup Assignment" DVDs are available for purchase at http://www.makeupassignment.com. Please also visit http://www.moniquepowers.com to check out Monique's personal blog, favorite makeup products, makeovers and portfolio pages
Monique works as a freelance makeup artist and has a private studio in West Hollywood, Calif., where she not only works her makeover magic and coveted brow shaping abilities but she also offers individual lessons as well. For the past five years she has volunteered her time to facilitate makeover lessons for the American Cancer Society's "Look Good Feel Better" program. This program prompted her to create her very own DVD series which allows her to facilitate makeover lessons for cancer patients in millions of homes across the country via video presentation.
Contact:
Monique Powers
323-356-1525
310-274-3141
Monique @ empowersbeauty.com
###