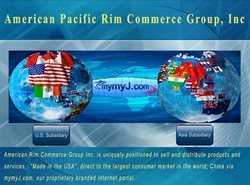 The Secret --The Universal Laws of Attraction
Las Vegas, NV (PRWEB) September 10, 2008
American Pacific Rim Commerce Group (OTC: "APRM.PK") (http://www.aprcg.com), is pleased to announce its entry into the public market, trading under the symbol "APRM.PK". American Pacific Rim Commerce Group (APRM or the "Company"), since its formation in 2007, is an innovative, dynamic start-up company providing services that will establish the Company as the number one on-line marketplace for trade between U.S. small and mid-size businesses and Chinese businesses and consumers. The Company plans to provide 1.3 billion Chinese consumers the opportunity to buy American products from its on-line marketplace and visible bilingual platforms throughout China. The ecommerce platform is offered through the website, currently under development, http://www.mymyJ.com, which in Chinese means Festival of Buying & Selling.
tAPRM is in the business of promoting trade between the United States and China by assisting U.S. Small to Medium-Size Enterprises ("SME") to sell their goods and services in China. There are many companies offering to promote Chinese manufactured products in America, but there are less than a handful promoting American products and services in China. MymyJ.com will be the first ecommerce platform to provide full service to American SME's including listing of all their goods and services, handling transportation of the goods to Hong Kong and China, and assuring payment for the goods and services. Business and consumers in China and Hong Kong will be charged a transaction fee and assured delivery of the goods or services through unique arrangements where payments to suppliers will be made only after the good or services are confirmed for delivery.
tThe Chairman and CEO of APRM, Andy Fan, is native Chinese and also Vice-Chairman of the Sino-American Trade Development Association. Mr. Fan has outstanding connections with the Chinese government, long standing relationships with Chinese media, and has a strong fan base in China where he has appeared in various forms of media over the past few years. Mr. Fan's popular book "Clinton and My Life" has made him an idol to millions of Chinese students, and a well-respected sought-after public speaker. He was once the interpreter for China's Head of State---Prime Minister Li Peng. Later he was awarded a full scholarship to do graduate studies in the U.S., was introduced to Bill Clinton by the University President to serve as his interpreter. His latest book "The Secret --The Universal Laws of Attraction" will be released throughout China in September, 2008.
tThe link of 1.3 billion Chinese consumers and U.S. small to medium-sized businesses will be the focal point of the business model and overall strategy. The initial thrust will be APRM's e-commerce business to business and business to consumer Internet site, which is underdevelopment and in beta testing, and should be operational during the fourth quarter of 2008. After this site is fully operational, the Company will concentrate on marketing these products and services through exposure in the US and Chinese media. Mr. Fan has recently conducted interviews discussing the Company's operations with Alibaba, shangjie.biz, The View magazine, etc.
tIn discussing the Company's entry into the public marketplace, Andy Fan, CEO of APRM stated, "Our sole reason to enter the public marketplace was to enhance our ability to grow much more rapidly into a major international ecommerce company through utilizing public stock to make acquisitions, and for ease to additional capital when needed at a much lower rate and with much less dilution than if we remained private. We will utilize our unique market position to promote our services and exploit growth opportunities, which will result in a substantial return to our public shareholders."
Stay up-to-date with current events by joining National Automation Services' E-Mail Alert List. Join by clicking the following link:
http://www.b2i.us/irpass.asp?BzID=1708&Nav=0&S=0&L=1
About American Pacific Rim Commerce Group Inc.
American Pacific Rim Commerce Group is a public holding company for the first comprehensive ecommerce platform, http://www.mymyJ.com, which will bring goods and services produced by U.S. small and medium-sized companies to consumers and businesses located in China and Hong Kong.
Safe Harbor Disclosure:
This press release includes "forward-looking statements" within the meaning of the federal securities laws, commonly identified by such terms as "believes," "looking ahead," "anticipates," "estimates" and other terms with similar meaning. Although the Company believes that the assumptions upon which its forward-looking statements are based are reasonable, it can give no assurance that these assumptions will prove to be correct. Important factors that could cause actual results to differ materially from the Company's projections and expectations are disclosed in the Company's filings with the Securities and Exchange Commission. All forward-looking statements in this press release are expressly qualified by such cautionary statements and by reference to the underlying assumptions.
Source: American Pacific Rim Commerce Group
Contact:
American Pacific Rim Commerce Group
3722 Honey Crest Drive, Las Vegas, NV 89135
Tel: (702) 685-9982
Website: http://www.aprcg.com
Investor Relations
MGI Consultants, Inc
43 South Pompano Parkway, Suite 106
Pompano Beach, Florida 33069
Lynn Collins
(352) 591-1785
###