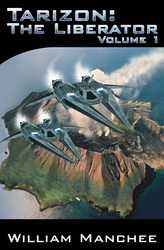 . . . readers will enjoy this action-packed exciting thriller . . . William Manchee has created a fascinating world in trouble that anchors this exhilarating powerful morality tale.
Dallas, Texas (PRWEB) September 15, 2008
Top Publications, Ltd announced today the release of William Manchee's fourteenth book, Tarizon: The Liberator, Vol. 1 of the Tarizon Trilogy. Manchee is kicking off his promotion of the book with appearances at the Pacific Northwest Book Sellers Association Trade Show in Portland, Oregon on Tuesday September 17 and at 2 pm on Saturday September 20, 2008 at Barnes & Noble, 5301 Belt Line Rd # 118, Dallas, TX 75254. In the weeks to follow Manchee will be appearing in Mobile, Alabama at the Southern Independent Booksellers Association Trade Show and in Los Angeles in October for the SCIBA Trade Show.
Tarizon: The Liberator by William Manchee, Science Fiction / Fantasy / Adult / Young Adult, Hardback, $23.00, ISBN 978-1-929976-48-5, Audio CD: $29.00, ISBN 978-1-929976-49-2 * 9 CDs 14.4 hours, Top Publications, Ltd. September 15, 2008. Available from Ingram Book Company, Baker & Taylor, Amazon.Com or direct from the publisher 972-490-9686 or Fax 972-233-0713
Description: Tarizon is recovering from a series of super volcanic eruptions that nearly destroyed all life on the planet. It is slowly recovering ecologically but the political situation is volatile. The fight is between the Purists who want to rid Tarizon of a growing mutant population and eliminate all non-human intelligent life-forms, and the Loyalists who want to restore the Supreme Mandate that guarantees freedom and basic rights for all humans and other sentient beings.
Videl Lai has become Chancellor in a tainted election. Once in power, he renounces Tarizon's constitution, The Supreme Mandate, and orders the extermination of all non-human life forms.
The Loyalist party anticipating Videl's rise to power, has been planning a civil war to restore rule under the Supreme Mandate and stop the genocide. But the Loyalist Party is weak and there is little hope it will be able to defeat Videl Lai and his formidable army. The only hope seems to be a prophecy that foretells of the arrival of a Liberator from Earth who would lead a revolt to rid Tarizon of a ruthless dictator.
Peter, much to his shock and dismay, soon learns that many on Tarizon believe that he is this Liberator and is expected to lead the revolution against Videl Lai and free the Nanomites, Mutants and Seafolken from bondage.
Author Bio: William Manchee is an attorney by trade and practices law in Dallas with his son Jim. Originally from southern California, he lives now in Plano, Texas with his wife Janet of some 40 years. Manchee discovered his passion for writing late in life but has been making up for lost time as Tarizon: The Liberator is his thirteenth published novel. He is most known for his eight volume Stan Turner Mystery Series inspired by actual cases and experiences during his thirty-plus years practicing law.
Reviews: "The young adult science fiction audience will go for William Manchee's Tarizon: The Liberator, the first book in his new trilogy. It reminds me of the Star Wars series, Among the Hidden (Margaret Peterson Haddix), Dancing With An Alien (Mary Logue), and Ender's Shadow (Orson Scott Card) . . . This book has everything a sci-fi fan could want: an alien world, mutants, conflict and civil war, spaceships, super-technology and chapters full of action! There is even romance for young Peter." -- SIBA Galley Call by Reeden Wright
" . . . readers will enjoy this action-packed exciting thriller . . . William Manchee has created a fascinating world in trouble that anchors this exhilarating powerful morality tale." -- Harriet Klausner, Alternative Worlds
". . . Characters are fresh, exciting, filled with vivacity. Dialog is fitting, often gritty, hard hitting potent. Storyline is attention-grabbing, engaging and out of the ordinary. Settings are nicely detailed, reader is drawn into the action, and interest is compelling from beginning to end. Plot twists, subterfuge, stratagem, and chicanery abound, heroes are heroic, and villains are down right vicious." -- Molly Martin, The Compulsive Reader
# # #