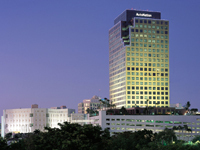 We are especially honored to receive this award for the second time, because we were in competition with all of AutoNation's other excellent suppliers
Wilmington, DE (Vocus) September 10, 2008 –-
DuPont has received the "2007 Supplier of the Year" award from AutoNation, the largest automotive retailer in the United States. DuPont, which received the same honor from AutoNation in 2003, is the only supplier ever to be recognized twice by AutoNation.
DuPont has been the leading name in automotive finishes – both for new cars and for the collision repair industry – for more than 75 years. AutoNation, based in Fort Lauderdale, Fla., operates 245 dealership locations representing 323 new vehicle franchises in 16 states.
"We are especially honored to receive this award for the second time, because we were in competition with all of AutoNation's other excellent suppliers," said John G. McCool, vice president and general manager -- DuPont Refinish Systems. "We understand that parts and service, including collision repair, is a major component of an auto dealership's revenue, so we are delighted that DuPont coatings and DuPont color science are contributing to AutoNation's success."
DuPont is the exclusive paint supplier to AutoNation. An increasing number of AutoNation locations are switching to waterborne products, which use water rather than solvents as the vehicle for paint pigments, in addition to using conventional solvent-based coatings. The use of waterborne finishes reduces emissions into the atmosphere due to a lower level of volatile organic compounds in the products.
DuPont is a pioneer in the development of finishes with reduced environmental impact. In recent years, the DuPont OEM Coatings business, working in partnership with major automotive manufacturers, has converted many of its new car products from solvent-borne to water-based products. Reductions in solvent use also have been achieved through the development of high-solids finishes. The company recently won a PACE Award from the authoritative publication Automotive News for the development of a system that eliminated an entire coat from a waterborne paint system in an auto assembly plant. The new system added substantial financial benefits, including reduced energy use and less investment in equipment, to the environmental pluses of using water-based coatings.
DuPont is a science-based products and services company. Founded in 1802, DuPont puts science to work by creating sustainable solutions essential to a better, safer, healthier life for people everywhere. Operating in more than 70 countries, DuPont offers a wide range of innovative products and services for markets including agriculture and food; building and construction; communications; and transportation.
###