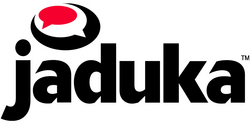 Serena is pleased to welcome Jaduka to the growing Serena Mashup Exchange
Dallas, TX (PRWEB) September 11, 2008
Jaduka® ( http://www.Jaduka.com), an award-winning innovator of Web-integrated communication and transaction tools and Serena®, the leading provider of software and Web 2.0 tools to build next generation Business Mashups, have signed an agreement that will bring Jaduka's enterprise-class voice technology to IT business analysts and power users. Jaduka will be featured as a charter member of the Serena Mashup Exchange™, the online community, catalog and marketplace for trying, buying, and selling Business Mashups.
Jaduka will offer Voice Mashup service modules at Serena that make it easy for companies to harness voice communications to improve process-intensive functions, such as, customer service, logistics, and security. Jaduka modules include web-initiated calling, call tracking, privacy-protected calling, notification services, broadcast messaging, and conference services.
"Serena is pleased to welcome Jaduka to the growing Serena Mashup Exchange," said René Bonvanie, SVP, Global Marketing, Partnerships and Online Services, Serena Software. "Jaduka allows companies to integrate Voice Mashups to drive improved productivity with communications-enabled business processes (CEBP)."
Jack Rynes, President of Jaduka, added, "Jaduka's leading edge technology and a world-class telecommunications infrastructure makes it easy for enterprise companies to integrate real-time communications solutions in ways that improve customer service and profitability. We are pleased to be a charter member of the Serena Mashup Exchange."
Serena Business Mashups enable organizations to automate, collaborate, and innovate by enabling users to create workflows, composite applications and Mashups that drive productivity across people, process and systems. For every project in IT, there are ten requests that never get addressed, contributing to an ever-growing application backlog and missed business opportunities. Unlike other tools that require technical expertise and coding skills, Business Mashups allow non-technical users to create Mashups that coordinate common business activities and address the application backlog.
About Jaduka:
Jaduka enables its customers to harness communications and technologies that create more effective business operations. Through its developer-friendly, SOAP-based Web Services API, the company's award-winning technology allows applications to trigger individual or group telephone calls; provide automated alerts; manage surveys and other digital files; and administer account information and transaction history for a variety of applications. From automating customer communication to facilitating spontaneous employee collaboration to enabling near-field communications purchasing convenience, Jaduka is future-proofing its customers' business processes. For more information, visit http://www.jaduka.com.
About Serena Mashup Exchange:
Serena® Mashup Exchange™ is an online marketplace to accelerate the creation and use of Business Mashups. Business users and internal IT departments as well as consulting and channel partners will be able to find, buy, and sell pre-packaged Mashups, Web services, and professional services -- without incurring any fees or commissions to Serena.
About Serena Software:
Serena is a privately owned company, headquartered in Redwood City, California, with 29 offices in 14 countries and almost 1000 employees. Serena provides software on premise and on demand to over 15,000 customers including 96 of the Fortune 100. Serena enables teams of programmers to become more efficient by standardizing and automating development processes across both mainframe and distributed environments. Serena enables IT business analysts and power users to improve productivity with a new generation of Web 2.0 tools to build Business Mashups. Serena Business Mashups automate common, everyday processes, are visual and do not require coding. Serena also enables IT executives to gain visibility into their projects, resources and costs - CIOs should have access to the same quality of information about IT as the CFO has about Finance. For more information on Serena, visit http://www.serena.com.
###