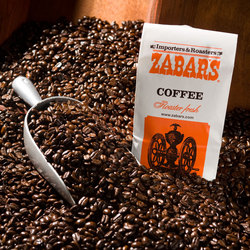 Our mail order department is one of our busiest departments
New York, NY (PRWEB) September 15, 2008
Zabar's is responding to their customers' needs, as prices for staple sundries and shipping increase across the country, with an offer of free ground shipping on orders placed online for 4 lbs. or more of their famous coffee at http://www.zabars.com.
A Great Value
"For years, food and coffee connoisseurs have shopped Zabar's catalog and web site for great gourmet gifts with a distinct New York City flavor," said Sandy Serrano, who heads the store's catalog and online retailing. "While our gourmet coffees make a great gift, at just $8.98 for a full pound, it's affordably priced so that anyone anywhere where can enjoy it everyday. You really can't get a better tasting coffee even at twice the price."
Zabar's is dedicated to delivering a better cup of coffee at a reasonable price. Saul Zabar hand selects the green beans, which are custom roasted for Zabar's, to create the perfect cup of coffee. Each and every week Saul personally oversees the roasting, sets up his cupping table in his office at Zabar's, and personally samples each and every roast making sure that the current week's roasts stand up to his discriminating tastes. "Like a fine wine, coffee has an amazing range and variety and a good coffee, correctly roasted, will showcase flavors and undertones of distinction in harmony, like a great orchestra." says Saul Zabar.
Zabar's Delivers
Zabar's customers are New Yorkers at heart, and as a neighborhood store, Zabar's delivers the best appetizing foods to the Upper West Side. But as New Yorkers move, vacation and travel, Zabar's delivers to their doorsteps across the county, through http://www.zabars.com.
"Our mail order department is one of our busiest departments" says Scott Goldshine, general manager for over 30 years. "We are well aware of the increases in shipping costs and want to be sure our customers continue to receive the best coffee at great prices."
Since its founding in 1934, Zabar's has grown from a single room appetizing counter to a 40,000 square foot gourmet shopper's paradise, which is now a national gourmet food and cookware destination available 24 hours a day at http://www.zabars.com.
In addition to their renowned gourmet coffee many of their gourmet products and distinctive cookware are available online. New Yorkers located anywhere can find the tastes they long for: New York style bagels, pastrami, corned beef, Jewish rye bread, world famous knishes, latkes, homemade cookies, gourmet olive oils and vinegars, classic pumpernickel bread, local and imported preserves, chocolate babka, rugelach and so much more. Additionally, Zabar's offers more unique gourmet foods like their prized caviar, and what they're so well known for, their smoked fish counter and gourmet cheese counter holding over 500 different cheeses.
From Their Home to Yours
Zabar's delicacies can be purchased online, by phone, fax and of course, in their New York City store at 2245 Broadway (at 80th Street). By telephone within New York: (212) 496-1234; outside New York: (800) 697-6301 (outside the 212, 718, 917, 347, 646 area codes); email: zabarscatalog@zabars.com and fax: 212-496-0392. For more information and to shop Zabar's online, go to: http://www.zabars.com.
Family Commitment is the Secret to Zabar's Coffee Success
The secret to Zabar's remarkable success with coffee is firmly rooted in its ongoing commitment to sell the highest quality products at reasonable prices. From the time Saul's father, Louis Zabar, founded the store in 1934 to today, Zabar's sells only superior quality products -whether they are smoked fish, pickles, cheese, housewares, coffee, or one of thousands of other exceptional items for which Zabar's has become known. Zabar's remains a family owned and operated business (including many of Zabar's personnel from across the globe who have been with Zabar's between 5 and 40 years, who are considered family).
Stop by and you will find Saul, his brother Stanley, Saul's son Aaron, or one of several other family members in the store at Broadway and West 80th Street in New York City every day, 365-days-a-year. For more information and to shop Zabar's online, go to: http://www.zabars.com.
###