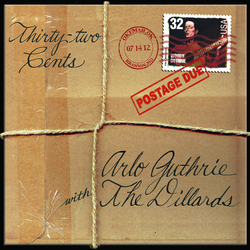 I thought it'd be the closest thing to the kind of music people actually play from that part of the world --Oklahoma is close enough to the Ozarks. I figured my dad would enjoy working with them for that reason
Washington, MA (PRWEB) September 12, 2008
Over ten years ago Arlo Guthrie entered the studio in Branson, Missouri, to record a traditional album of his father Woody's most enduring songs. Woody Guthrie was fêted in 1998 by the U.S. Postal Service, having a thirty-two cent postage stamp issued in his honor, and Arlo surmised the timing was ideal for his CD 32¢/Postage Due to be a celebration of that high distinction.
Wanting to achieve the authentic sound and feel of Woody's music, Arlo looked to his longtime friends The Dillards. Possibly best known for their recurring roles on The Andy Griffith Show as The Darlin' Boys, The Dillards are undeniably extremely influential figures in popularizing bluegrass music. "I thought it'd be the closest thing to the kind of music people actually play from that part of the world --Oklahoma is close enough to the Ozarks. I figured my dad would enjoy working with them for that reason," supposed Arlo.
Included on this special collection of 13 tracks are Ship in the Sky (My Daddy), never before released by Arlo with his children adding additional vocals; the more obscure and poignant miners' elegy Ludlow Massacre; Grand Coulee Dam, a lively salute to an American wonder; and Tom Joad, Woody's ode to the Oklahoma dustbowl survivors' spirit and homage to Steinbeck. Arlo and The Dillards' sparkling renditions of Hard Travelin', East Texas Red, Pastures of Plenty, The Sinking of the Reuben James, Sally Don't You Grieve, The Ranger's Command, Do Re Mi, So Long It's Been Good to Know Yuh, and an instrumental version of This Land is Your Land round out this testament to Woody's cherished work.
Originally titled 32¢, "Postage Due" was added since your letter won't even cross the street for that these days. 32¢/Postage Due was co-produced by Arlo Guthrie and Rodney Dillard. Recruiting Abe Guthrie for the final mix, the outcome is an honest and thoroughly enjoyable collection of some of Woody's best songs in the genuine tradition of Woody Guthrie as only Arlo could do. With great anticipation and without further delay, we now present 32¢/Postage Due.
###