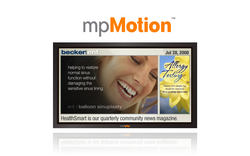 Providing valuable information to patients at the point-of-care improves profitability
Raleigh, N.C. (PRWEB) September 11, 2008
Mediplay, Inc., is transforming physician practices across the country with its unique digital signage system that makes patients' waiting room time more enjoyable and informative. The latest physician group to install Mediplay's network is Ear, Nose & Throat Associates of South Florida with 17 locations. The first installation is currently underway at the ENT Associates location in Boca Raton, Fla.
"Providing valuable information to patients at the point-of-care improves profitability," said Tim Boyd, Mediplay president and chief operating officer.
Mediplay has installed video screens in physician waiting rooms across the country, including a strong base of physicians' groups in Otolaryngology, head and neck surgery. Doctors use this point-of-care digital signage as an information network so patients can become more knowledgeable. Results have shown that with Mediplay in the waiting room, physicians run a more profitable practice.
"We selected Mediplay because of its extensive library of content, which allows us to instantly provide patients with information to make them more fully aware of both our breadth of services and the expertise of our providers," said Todd Blum, CEO of Ear, Nose & Throat Associates of South Florida. "This enables us to build deeper relationships."
With its subscription-based pricing model, Mediplay gives physician groups the ability to manage the content of their information and streamlines access to an on-demand video library that helps doctors communicate their most important messages. Doctors personalize their messaging and profit from the added exposure.
"Mediplay was formed in 2004 by a physician who needed to address challenges that doctors face daily - such as how to spend more time with patients, while also improving profitability," said Boyd. "Once we install a flat-panel screen in the waiting room, the Mediplay Web-based content delivery system is used to display practice-specific product and service information at the point-of-care in each location."
Mediplay descends upon Chicago this month to show Otolaryngology physicians how important targeted marketing is to their practices. Conference attendees will see demonstrations of Mediplay's new technology beginning September 17-20 with the Association of Otolaryngology Administrators 26th Annual National Educational Conference AOA-26, and culminating with the American Academy of Otolaryngology - Head and Neck Surgery OTO EXPO, September 21-24.
"This is a 'can't miss' opportunity for physicians to better understand how new marketing technologies can immediately improve practice profitability," said Boyd.
For the OTO EXPO, attendees are invited to join Mediplay at Booth 648 as executives demonstrate the latest in point-of-care digital signage. Mediplay is an AAO-HNS Academy Advantage partner, and has been working closely with the AAO-HNS to develop programming options that directly benefit its members.
Mediplay creates a unique point-of-care marketing system designed to enhance patient communications. It allows physicians to present unique visual content that is personalized to their practice, highlighting the services and treatments they offer. Mediplay transforms waiting room time into positive, productive learning experiences - which results in a more informed patient, a more focused healthcare provider, and a more profitable physician practice. For more information, call us toll-free at (877) 417-2495.
Ear, Nose & Throat Associates of South Florida has been caring for the needs of area patients since 1963. With 25 physicians at office locations throughout Broward and Palm Beach Counties, ENT Associates is one of the largest private practice otolaryngology groups in the country. With its longstanding reputation for excellence, ENT Associates invites patients to experience "academic level medical and surgical care" in the convenience of a private practice setting, offering comprehensive general and subspecialty ENT medical and surgical care from one medical group.
###