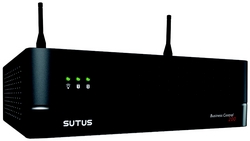 Vancouver, B.C. (PRWEB) September 11, 2008
The Sutus Business Central™, a multi-service business gateway (MSBG) that provides Small Businesses with a fully integrated data, networking and telephony solution today has released its findings related to the energy savings of it's small business technology. In addition to its business operational features, the power consumption, design and advanced remote support of Business Central dramatically reduces a small business' carbon footprint compared to a piecemeal solution that provides equivalent business functionality.
In the course of a year, the Business Central requires 350 kw/hrs power*. This is 1261 kw/hr lower than the power usage of the combined products used by most small businesses to match the functionality of the Business Central. The power difference is equivalent to .98 metric tonnes of CO2 tonnes per year. That's the equivalent of parking the car for 60 days a year or replacing a twenty year old fridge with an 'energy saver' model
As well as having low power requirements, the Business Central enjoys a very streamlined design with dimensions of 9'' by 11'' by 4''. This is little bigger than a Microsoft Xbox and is considerably smaller than the combined dimensions of a competing piecemeal solution. In addition, advanced remote support and management features built into the Business Central mean that the device can be remotely monitored, upgraded and repaired without the need to send out a technician or for the small business staff member to spend long periods on the phone.
The Sutus Business Central (tm) has been developed specifically for businesses of up to 25 employees and comprises a wide array of advanced data and networking functions such as: file server, email server, router, firewall, wireless access point, VPN remote access server, automated backups, and a business-class phone system with the ability to simultaneously support both standard phone line and VoIP connections.
The Business Central is also a gateway for hosted services and is ideal for businesses that promote remote working or those with employees in numerous locations.
Shawn Chute, EVP of Sutus, commented, 'People are rapidly becoming more conscious of their effect on the environment and this is starting to show in some of their business decisions. Small business owners in particular have the advantage of being able to change the way their company operates in many ways according to their preferences. The Sutus Business Central enables them to improve business functionality while helping the environment by utilizing our "all-in-one" energy efficient complete office solution..'
*Assumes constant power 24 hours per day, 365 days per year.
About Sutus
Sutus (http://www.sutus.com) provides small businesses with an enterprise quality all-in-one solution that delivers office network and telephone infrastructure that is affordable, robust and extremely flexible. The Sutus Business Central™ has won six industry awards, including Internet Telephony magazine's 2007 product of the year, IT Expo's 'Best Newcomer', VON Magazine 'Innovation', IP Communications 'Product of the Year', Network Products Guide 'Product Innovation' and 'Ready to Rocket'. It is designed specifically for offices with up to 25 users providing all core IT infrastructure as well as on-demand turnkey VoIP and other advanced phone and data services through Sutus business partners. The Business Central significantly improves a reseller's ability to easily service small business customers with locations of 25 users or less.
For more Sutus-related media information or images please contact:
David Matthews
Distinct Public Relations
davidm@distinctpr.com
+1 778 855 2335
Jon Paul Janze
Sutus Inc.
jpjanze@sutus.com
+1 778-371-5286 xt 2103
###