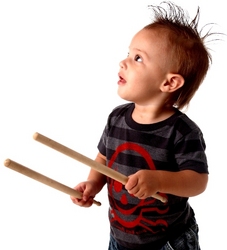 Who wants to be a little Rock Star?
Tampa, FL (PRWEB) September 12, 2008
Baby Rock Apparel, Inc., a manufacturer of hip toddler and baby clothes with an edge, is introducing the 1st Semiannual "Who wants to be a little Rock Star" Contest for baby and toddler boys and girls to find the coolest little Rock Stars throughout the country wearing their cool baby clothes.
The "Who wants to be a little Rock Star?" Contest sponsored by Baby Rock Apparel was created to find the coolest little Rock Stars sporting their Baby Rock Apparel branded clothing and for our customers to have a little fun showing off their kids, says Kimberly Strayer, President of Baby Rock Apparel. Contestants will be judged in two age groups for both boys and girls (newborn to 2 years old and 4 years old to 6 years old) and winners will receive a $100 Credit at BabyRockApparel.com, 20% Discount Coupon for 1 year at BabyRockApparel.com, Baby Rock Apparel Design Shirt, Baby Rock Apparel Lunch Tin and the winners pictures will be featured on BabyRockApparel.com.
To enter the contest, email (1) picture to contest@babyrockapparel.com with your little Rock Star wearing any Baby Rock Apparel shirt by October 31st, Note the child's first name, age, city & state they live and write a "short" paragraph on why you think they would make the coolest little rock star. The winners will be posted on BabyRockApparel.com in late November and will be contacted via email shortly thereafter to find out how to redeem their prizes.
Baby Rock Apparel has been donating a portion of their profits to the Pediatric Cancer Foundation since the company was founded in 2004 and they will be using this contest as a catalyst to contribute additional funding. "We will contribute $1 for every contest entry to the Pediatric Cancer Foundation, so even if your child doesn't win, you will know that you are helping out a great cause", says Kimberly Strayer, President.
Headquartered in Tampa, FL, Baby Rock Apparel, Inc. was founded in March 2004. The Baby Rock Apparel line of cool baby clothes, baby & toddler t-shirts, hoodies, footwear and baby hats can be found in over 200 stores and boutiques in the U.S., Canada and Europe, by visiting the company's website Baby Rock Apparel and at Trendy Remedy. Priced from $20-$26 retail, these products are perfect for baby showers and holiday gifts and may be shipped in a hip Baby Rock tin lunch box upon request. Wholesale inquiries are welcome. For additional information contact Baby Rock Apparel at info@babyrockapparel.com or 813.282.3987.
###