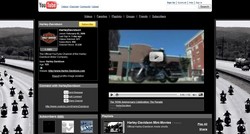 seeing what comes next, going where no one's ever gone before.
Milwaukee, WI (PRWEB) September 16, 2008
Few companies know how to give their fans what they want like Harley-Davidson. The legendary motorcycle company has launched its official channel on YouTube and has done so in a big way with a collection of short films featuring footage of the 105th Anniversary Celebration, and the much anticipated 2009 model lineup.
Harley-Davidson's official channel on YouTube is fully loaded with authentic content straight from the source. Built to satisfy the most passionate enthusiast, the newly launched channel's first feature film, which showcases the 2009 model lineup, takes viewers on an adventure of "seeing what comes next, going where no one's ever gone before." They'll get a look at the new V-Rod Muscle™ with the 120hp Harley-Davidson Revolution® engine, which was co-developed with Porsche. Viewers will learn about how all seven models in the Touring line have been reengineered from the tire tread up. They'll also see the new Tri Glide™ Ultra Classic®, and get a glimpse of the new features across the entire product line. The 2009 lineup boasts 33 cool and powerful bikes. It's a must-see for anyone who rides or dreams of riding.
The 2009 model preview film is just the start of the ride on Harley-Davidson's official YouTube channel. Other newly posted videos highlight the sights and sounds of the Harley-Davidson 105th Anniversary Celebration that took place August 28-31. Viewers will also be taken behind the scenes at local and national events like Daytona Bike Week. There, they'll hang out in the flat track pits with Harley-Davidson's Wrecking Crew race team, and meet celebrity riders like ultimate fighter Keith Jardine. Through the Rider Story video series, viewers will get to know bikers from all walks of life - a trucker, an executive, a single mom, couples young and old, and more. These are the real people of Harley-Davidson who share a love for the freedom of the open road.
Visitors to Harley-Davidson's official channel on YouTube will get connect to the Company and with each other. Those who have an account with YouTube can subscribe to the H-D channel and have it appear on their own channel to share with their viewers, plus a link to their channel will appear on Harley-Davidson's channel. Subscribers will also have the opportunity to post videos and comments to the H-D channel, and easily share videos with friends and upload them to their Facebook and MySpace profiles. What's more, they'll be the first to know when Harley-Davidson adds new videos to the channel.
Harley-Davidson's official channel on YouTube is an ideal destination between rides.
###