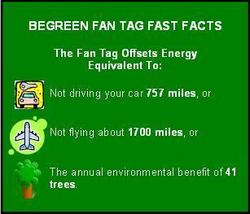 Offset Your Carbon Impact Now
Austin, TX (PRWEB) September 15, 2008
BeGreen (http://www.begreennow.com), the carbon offset division of Green Mountain Energy Company, announced today the resounding success of the BeGreen Fan Tag, a "green" ticketing option that allows concert-goers to minimize the environmental impact of traveling to concerts and festivals.
As of today, BeGreen has distributed more than 10,000 Fan Tags - more than four times the amount in 2007 - to concert-goers for the 2008 Lollapalooza and Austin City Limits Festivals. As a result, festival-goers have helped prevent more than 6.8 million pounds of carbon dioxide from entering the atmosphere--the environmental equivalent of taking 600 cars off the road for one year.
"The support we've received for the Fan Tag has been overwhelming and has exceeded all expectations," said Gillan Taddune, chief environmental officer of Green Mountain Energy Company. "In 2007, more than 2,000 concert-goers added the Fan Tag to their ticket purchase for Lollapalooza and Austin City Limits combined. And this year, even with a more uncertain economic climate, more than 10,000 music fans have shown their support for the environment by adding the Fan Tag to their ticket purchase. It's exciting to see so many fans opting to do something quick and easy that makes a real impact."
The success of the Fan Tag illustrates a growing interest from musicians and their fans who together have become a driving force for the environmental movement. Popular artists have become known for their efforts to reduce the environmental impact of their concerts through activities such as running tour buses on eco-friendly bio-fuels, avoiding plastics, using solar powered sound and stages and offsetting travel with carbon offsets. G. Love & Special Sauce has taken the environmental message to the social networking platform by setting up MySpace pages devoted to "green" initiatives and using video (http://www.myspace.com/glovebegreen) to educate fans about way to make a difference. In addition to Lollapalooza and the Austin City Limits festival, BeGreen has also provided "green" ticketing options for the Telluride Blues and Brews Festival, Camp Bisco and the Asheville Music Jamboree.
Beginning in 2007, BeGreen worked with the organizers of Austin City Limits Festival and Lollapalooza to create a "green" ticket option that allows individuals the opportunity to minimize the environmental impact of traveling to the festivals. For an additional $5, music fans have the option of "going green" by adding the BeGreen Fan Tag option when purchasing concert tickets through the festival Web sites at http://www.aclfestival.com and http://www.lollapalooza.com.
Each Fan Tag is equal to offsetting 500 kWh of energy usage and is used to purchase renewable energy credits from cleaner sources, such as solar and wind-generated energy. With each purchase, concert-goers also receive a unique, double-sided BeGreen Fan Tag sticker that can be displayed at the event to show off their environmental consciousness.
With only two weeks left until the Austin City Limits Festival, eco-minded concert-goers can get their own BeGreen Fan Tag by following these simple steps:
1. Log on to http://www.aclfestival.com to purchase tickets
2. During the check-out process, look for the "Offset Your Carbon Impact Now" link at the bottom of the page
3. Click "Add To Cart" and the Fan Tag will automatically be added to the purchase
Attendees can pick-up their Fan Tag during the concert at the BeGreen booth. BeGreen Fan Tags can also be purchased at the booth.
About BeGreen Carbon Offsets
BeGreen Carbon Offsets, the latest solution-based product from Green Mountain Energy Company, provides businesses and consumers the opportunity to offset their carbon footprint through the purchase of renewable energy, forest sequestration, and other project based offsets. It also provides education on the serious effects of CO2 emissions and climate change, while introducing simple and effective ways to take steps towards becoming carbon neutral. Supported by a community of forward-thinking individuals, BeGreen encourages ways to cool down global warming. For more information, visit http://www.begreennow.com.
###