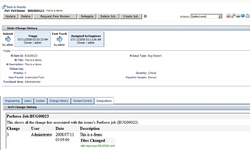 As an established partner of Perforce, we are excited to provide an integration between Perforce SCM and Serena Business Mashups
Bel Air, MD (Vocus) September 11, 2008
Go2Group, Inc., a leader in the field of Software Production Line Automation (SPLA), announced the general availability of the Go2Group PaT Mashup, providing tight integration between the Perforce Software Configuration Management (SCM) system and Serena Business Mashups.
By combining Perforce SCM's version control capabilities and the sophisticated workflow of Serena Business Mashups, developers can complete their work in Perforce while managers and QA departments can continue to manage that work with Serena Business Mashups through workflow tracking and reports. The Serena Business Mashups database remains consistent with the changes made in Perforce SCM, providing managers accurate and up-to-date project status information.
Specifically, Go2Group PaT Mashup users can view Perforce change history related to specific incidents, without ever having to leave Serena Business Mashups. The Go2Group PaT Mashup displays Perforce data within Serena's tabbed interface.
"As an established partner of Perforce, we are excited to provide an integration between Perforce SCM and Serena Business Mashups," said Brett Taylor, Go2Group's CEO. "We can appreciate the challenge in moving to an advanced version of an enterprise system - the Go2Group PaT Mashup was built to ensure Perforce customers will benefit from Serena's new business mashup solution."
How the Go2Group PaT Mashup works
Using Serena Business Mashups, a tester simply logs an incident into the Serena interface. If there is a Perforce change history log associated with the specific incident, the Integrations tab will provide a description of the changes made. The user can review change history information such as:

The user who made the change
The date of the change
The location of the change
The change history ID
The check-in comment
The display of related change history within Serena helps keep the process flowing by providing users the information needed to make timely decisions.
John Walker, in charge of Perforce's partner and integration program, said, "The Go2Group's Mashup offers a solid integration between Perforce and Serena Business Mashups. In addition to linking Perforce to a powerful workflow tool, integrating with the Serena Business Mashups server opens the door to easily integrate Perforce with other tools, providing a complete ALM solution."
"Automation of software configuration management is a goal of every productive IT organization. Go2Group, Inc. has created a mashup for these organizations to help reach this goal. IT teams using Perforce's SCM system in tandem with Serena Business Mashups should look to the Go2Group PaT Mashup to become more efficient in developing software," said Rene Bonvanie, SVP, Global Marketing, Partnerships and Online Services.
Availability & Pricing
The Go2Group PaT Mashup is available today. Customers can download and evaluate the Go2Group PaT Mashup free for 30 days, with full support from Go2Group.
Pricing for the Go2Group PaT Mashup includes a license fee and is dependent on the number of users. The Go2Group PaT Mashups is available in Workgroup, Team, or Enterprise editions.
About Perforce Software, Inc.
Founded in 1995, Perforce Software Inc. develops, markets and supports Perforce, the Fast Software Configuration Management System. Perforce Software is headquartered in Alameda, Calif., and sells worldwide. The company has international operations in Europe, Japan and Australia. In addition to application software companies, Perforce customers represent a broad range of industries including game development, electronics, pharmaceutical and financial services. For more information, visit http://www.perforce.com .
About Go2Group, Inc.
The Go To Group, Inc. (Go2Group) provides its clients with world-class Software Production Line Automation (SPLA) services and products, constructed from integrated suites of systems, such as Source Code Management, Configuration & Management, Release Engineering, Build & Workflow Management, Defect Tracking, and Test Automation Systems.
For more information on Go2Group Mashups, please visit us at: http://www.Go2Group.com .
About Serena Software, Inc.
Serena is a privately owned company, headquartered in Redwood City, California, with 29 offices in 14 countries and almost 1,000 employees. Serena provides software on premise and on demand to over 15,000 customers including 96 of the Fortune 100. Serena enables teams of programmers to become more efficient by standardizing and automating development processes across both mainframe and distributed environments. Serena enables IT business analysts and power users to improve productivity with a new generation of Web 2.0 tools to build Business Mashups. Business Mashups automate common, everyday processes, are visual and do not require coding. Serena also enables IT executives to gain visibility into their projects, resources and costs - CIO's should have access to the same quality of information about IT as the CFO has about Finance. For more information on Serena, visit http://www.serena.com .
Contact:
William Anderson
Go2Group, Inc.
347-694-5202
For high-resolution photos, please contact the Go2Group.
# # #