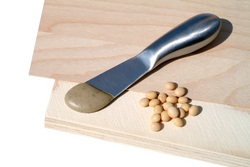 It gives Columbia's customers peace of mind, knowing that the veneer core panels they purchase from now on will satisfy the CARB requirements at any time -- even after the emission limits tighten up for Phase 2
Greensboro, NC (PRWEB) September 12, 2008
Columbia Forest Products announces the CARB Phase 2 certification of its formaldehyde-free PureBond(R) Veneer Core Hardwood Plywood.
The Hardwood Plywood & Veneer Association (HPVA TPC-8) informed Columbia that its seven North American plywood mills are recognized as certified to produce panels that are compliant with the California Air Resources Board (CARB) Airborne Toxic Control Measure's standards. This necessitates meeting the .05 ppm Phase 2 formaldehyde emission limits.
Todd Vogelsinger, Director of Marketing, said that this is important for several reasons. "Not only does this make Columbia Forest Products' PureBond veneer core the first hardwood plywood to achieve CARB certification, but it was done at the more challenging Phase 2 level -- over a year ahead of the regulation's deadline.
"It gives Columbia's customers peace of mind, knowing that the veneer core panels they purchase from now on will satisfy the CARB requirements at any time -- even after the emission limits tighten up for Phase 2," he added. "They won't need to segregate or keep double inventories.
"This certification underscores what we've been saying for some time now. At Columbia Forest Products, this is not a special order or part-time effort. Formaldehyde-free PureBond is our standard lamination technology, assuring our customers of proven performance, timely availability and consistent pricing," he added.
Columbia's packaging and paperwork will be modified to include this certification information for customers who need to document the use of CARB-compliant panels, in keeping with regulation guidelines.
Leadership in Sustainability
Columbia was also the first hardwood plywood company certified to FSC (Forest Stewardship Council) standards in the U.S.
"We were green before it became a trend," Vogelsinger said. "We enjoy helping shops across North America provide quality-made goods to their customers with the best sustainable, formaldehyde-free materials possible. CARB certification for our PureBond veneer core products is just the latest evidence of this commitment."
About Columbia Forest Products
Founded in 1957, Columbia Forest Products is North America's largest manufacturer of hardwood plywood and hardwood veneer, a leader in sustainable forestry, and innovator of soy flour-based formaldehyde-free PureBond technology.
Columbia's decorative interior veneers and panels are used in cabinetry, furniture, architectural millwork and commercial fixtures. Employee-owned and based in Greensboro, North Carolina, Columbia employs more than 2,500 and operates facilities throughout the United States and Canada, and an operational network which spans the globe.
Website: http://www.cfpwood.com (Columbia Forest Products)
###