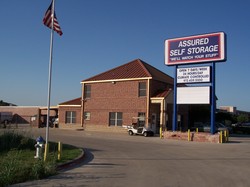 Texas is one of the top performing states in the Country for Self Storage. Lenders, even in the current challenging financing environment, are eager to finance well situated Storage facilities like Blue Star and Assured with experienced sponsors. Thus we were able to secure 75% leverage at extremely attractive rates and terms
Dallas, TX (PRWEB) September 11, 2008
Equity Based Services, Inc. ("EBS"), a San Diego based real estate investment firm, announced that they have taken over two Dallas area Self Storage facilities. Assured Self Storage and Blue Star Self Storage are situated in Lewiston, Texas, a growing suburb of Dallas.
The Assured/Blue Star acquisition adds 1,130 storage units, 115 parking spaces, and a total of 148,556 Net Rentable Square Feet to EBS' rapidly expanding holdings in Self Storage Commercial Real Estate.
EBS has added 13 properties to its portfolio in the 2008 calendar year, 7 of which are in the state of Texas.
"Texas continues to be a great market for Self Storage" states EBS Fund Manager Troy Downing. "The Texas economy remains strong and we continue to find great deals around the major population centers of the state."
"The Assured/Blue Star acquisition represents the execution of a tremendous Value Added opportunity for our investors. The opportunity is realized upon acquisition. We are adding value by combining the two properties and re-branding the site as American Mini Storage. This acquisition demonstrates an outstanding immediately executed Value Added Play by Equity Based Services, Inc.", states Stephen Kaplan, CEO Equity Based Services, Inc.
EBS rebrands its Self Storage holdings as American Mini Storage. The rebranding of Assured Self Storage and Blue Star Self Storage will commence shortly after the acquisition. The entire EBS portfolio of American Mini Storage properties can be found online at http://www.ams-storage.com
EBS places equity in its acquisitions from its base of High Net Worth individual investors, 1031 Exchange Tenants in Common ("TIC"), and from its closed Private Equity Real Estate Funds. Financing for the Assured/Blue Star acquisition came from a large Regional bank that offered a Wall Street Journal Prime ("WSJP") based floating interest rate with a starting interest rate of 5.5%. This loan also included a significant interest-only period and 75% leverage.
"Texas is one of the top performing states in the Country for Self Storage. Lenders, even in the current challenging financing environment, are eager to finance well situated Storage facilities like Blue Star and Assured with experienced sponsors. Thus we were able to secure 75% leverage at extremely attractive rates and terms" states Saul Hoppenstein, Principal Tavernier Capital Partners.
EBS is currently under contract to close several additional Self Storage deals in Las Vegas, Texas, and South Carolina.
About Equity Based Services, Inc
EBS is a Private Real Estate company specializing in the acquisition and management of self-storage property. EBS currently owns and operates nearly 60 Self-Storage properties in 10 states with a market value approaching $300 Million. EBS also manages a family of Private Equity Funds for institutional and high net worth individual investors. The EBS Income Fund, the EBS Income and Growth Fund II, and the Pilot Equity Value Added Fund all closed in 2007. All portfolio properties are aggressively managed by All American Property Management, Inc. to maximize investment returns. For more information, contact Troy Downing at 619-220-6700.
This Press Release is for informational purposes only and does not, in any way, constitute an offering to buy or sell securities.
###