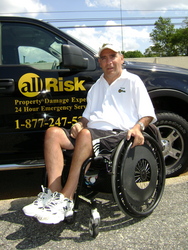 In the midst of the hurricane season, what better time of year to remind ourselves that everyone can and should take steps to be prepared in the event of a disaster
Somerdale, NJ (PRWEB) September 11, 2008
In support of the fifth annual National Preparedness Month, allRisk Property Damage Experts is doing its part to encourage Americans to prepare for emergencies before they happen by offering recommendations for personal and business Disaster Supply Kits.
In addition, throughout September, allRisk co-owner Dean A. Ragone will share his expert advice, based on nearly 20 years of experience in damage recovery and restorations, in a blog created especially for National Preparedness Month.
The blog, titled DR2 (Dean Ragone on Disaster Recovery) will appear twice a week. Topics will include, "First Responder," "Understanding Your Insurance," and "Preparedness for Business."
Ragone's blog and the Disaster Supply Kit can be accessed online at disasterrecoverymonth.com. The first blog will post on September 11, the seventh anniversary of the terrorist attack on New York City's World Trade Center.
Disaster Supply Kit recommendations include food, clothing, personal care, information regarding pets, personal financial and health records, and much more.
"In the midst of the hurricane season, what better time of year to remind ourselves that everyone can and should take steps to be prepared in the event of a disaster," says Ragone. "Doing so greatly improves one's ability to not only survive, but also recover from emergencies, both natural and man-made."
"Severe weather, such as a hurricane, is just one source of possible disaster. People can cause disasters, too. A fire might threaten an entire community or chemicals might spill from a truck. The question remains, are you ready," says Ragone.
Ragone and co-owner Frank Messina established allRisk in 1994 and have since become nationally recognized experts in water, fire, and mold damage recovery. A 24/7 operation, allRisk provides customers with home telephone numbers of it owners.
"We don't pay lip service to the 24/7 concept," says Messina. "We are always available to our customers, and we prove it day in and day out."
allRisk Property Damage Experts is an emergency response company that specializes in commercial property damage restoration, general construction restoration and tenant fit-out, and environmental remediation.
For more information on how you can do your part to protect your business and family in case of an emergency, visit allRiskinc.com.
Media Contact:
Michael Willmann
856-616-2886, ext 13 (o)
856-278-3333 (m)
michaelwillmann @ wmsh.com
###