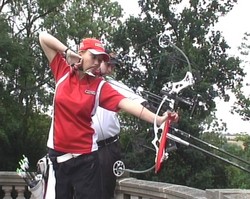 Two fantastic venues with challenging Field Archery courses will test the abilities of our competitors and provide for some excellent video coverage on Alternative2tv.com
Worcester, UK (PRWEB) September 14, 2008
European Professional Archery returns to Müllenborn in the Eifel region of Germany on June 20th/21st for the opening round of the 2009 Pro Archery Series. Three months later, the unique Fort van Lier venue near Antwerp, Belgium will make its Series debut by hosting the second round on September 19th/20th.
The scenic village of Müllenborn near the famous mineral water producing town of Gerolstein, Germany, played host to the first two Pro Archery events; the 2007 Cartel Classic and the 2008 Cartel Classic presented by Alternative Sporting Services. These tournaments introduced a level of event coverage never before seen within the sport of archery with free-to-view videos combined with a live scoring system produced in conjunction with media partners, Alternative2tv.com.
"We have reached a milestone in the development of the Pro Archery Series for 2009," said Tony Goodwin, co-founder of European Professional Archery, "Two fantastic venues with challenging Field Archery courses will test the abilities of our competitors and provide for some excellent video coverage on Alternative2tv.com"
Field Archery is an aspect of the sport similar in many ways to a game of Golf. Groups of four archers navigate their way around a course of up to 28 targets per day. Courses are generally set in woodland areas with a fair amount of gradient providing not only a challenge to the archers but also a highly spectacular and picturesque backdrop.
Müllenborn certainly ticks all the boxes for a naturally hilly woodland setting. In contrast, Fort van Lier is a man-made WWI military fortress. Over the years it has become heavily overgrown. With targets set in and around the buildings as well as alongside the surrounding lake and woodland it will give an urban feel to this field archery event.
European Professional Archery has modelled itself on the way professional Golf is run. Each Pro Archery Series event is limited to a maximum field of 56 archers split between two classes; the PMFU (Professional Gents) and the PFFU (Professional Ladies) IFAA divisions. These events are designed to attract the elite compound archers from around the world as well as those looking to take their sport more seriously. A minimum prize fund of 12,000 EURO raised through advertising revenue is allocated to each event with the payout distributed among the top 30%.
In addition to Pro Archery Series events, European Professional Archery also hosts occasional high profile special events such as the 2008 5 Star Match where ten of the very best archers in Europe were invited to compete in a team match play style tournament, similar to a single day of the Ryder Cup.
For further information regarding the Pro Archery Series and related advertising opportunities please contact Glyn Goodwin or visit the European Professional Archery web site.
About European Professional Archery:
European Professional Archery was formed in 2006 by IFAA Vice President, Steve Kendrick and Alternative Services owner, Tony Goodwin as a commercially run enterprise promoting professional archery tournaments.
IFAA:
International Field Archery Association
Contact:
Glyn Goodwin
European Professional Archery
+44 1386 443795
###