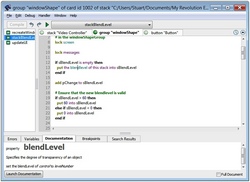 The script editor is where our customers spend most of their time
Edinburgh, Scotland (PRWEB) September 15, 2008
The world's easiest programming tool received a major update today with the release of Revolution 3.0. The new version dramatically improves the script editor, making it easier for newcomers and more comfortable for experienced programmers. The company also slashed the retail price of the product line as much as 50%.
"The script editor is where our customers spend most of their time," said Kevin Miller, Runtime Revolution CEO. "So these improvements really make a huge difference. In the new version, we've integrated coding and debugging tools in a convenient and customizable way that is robust, efficient and understandable."
Other new features include graphics enhancements (including seven types of programmable gradient fills and strokes for vector objects); nested, multidimensional arrays; and a resource center filled with hundreds of examples to help new users get up to speed quickly.
Along with the new features, Revolution now sports lower prices. The bread-and-butter Studio edition -- which can create true standalone applications for Mac, Windows, and Linux -- now costs $249 (down from $399), and the flagship Enterprise edition is now just $499 (down from $999).
"We've made the product more accessible, not only by adding a lot of learning resources and organizing them better, but also by reducing the price." Miller said. "Our rapid growth over the last year has enabled that."
Revolution 3.0 includes the following new features:

All-new Script Editor
New Start Center
New Resource Center - learn Revolution quickly
Overhauled documentation
Nested (multi-dimensional) arrays
New gradient fill support
Graphic object improvements
Improved image rotation
Overhauled menu accelerator support
Over 150 bug fixes and minor enhancements
Revolution 3.0 is available in three editions with new, more affordable pricing:
Revolution Enterprise (US $499), intended for professional programmers
Revolution Studio (US $249), ideal for consultants and business managers
Revolution Media (US $49), for beginners and hobbyists.
Users can download a free trial of version 3.0 from http://www.runrev.com/
About Revolution
Revolution enables users to create applications using the platform of their choice and deploy to virtually every desktop computer in use today. Unlike other programming languages which rely on obscure symbols and complicated structures, Revolution uses plainly understood words and phrases for most of its operations. Casual users can ramp up quickly while advanced users save time by writing up to 90% less code than they would in a traditional language.
About Runtime Revolution Ltd
Founded in 1997, Runtime Revolution focuses on bringing user-centric software development to all major platforms: Windows, Macintosh, Linux, and Unix. The company is based in Edinburgh, Scotland. For more information on Runtime Revolution, please visit the company on the web at http://www.runrev.com .
###