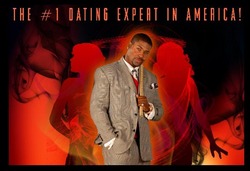 How to Avoid getting Played
Los Angeles, CA (PRWEB) September 16, 2008
Best selling author, lecturer and international dating guru, Tariq Nasheed, launches his highly anticipated tour entitled Get Your Game Right! The tour will kick off in Los Angeles on October 23rd, 2008 at the Whitefire Theater in Sherman Oaks, and Atlanta Oct. 29th at the Hilton Atlanta
Nasheed is a best selling author who boasts that he "can teach any man how to get women", has written three successful books. In 1999, Nasheed wrote a book based on his dating techniques called The Art Of Mackin, which has sold over 250,000 copies, his follow up book Play Or Be Played (Simon & Schuster) was catered towards women trying to learn "the game," and in 2005, he released another book for men called The Mack Within (Penguin).
A self proclaimed "game advisor" Nasheed has appeared on TV shows such as The Tonight Show with Jay Leno and Late Night with Conan O'Brien, as well as on MTV. Nasheed delivers his seminars to sold out crowds across the country and is currently promoting his instructional DVD called Mack Lessons.
Nasheed has also signed with the leading international agency for speakers, American Program Bureau.
The Get Your Game Right Tour, focuses on both men and women in assisting them with dating techniques. For women the tour highlights topics such as: "Attracting Wealthy Men", "How to Avoid getting Played" and "How to Spot a Cheater". For the men, Tariq highlights; "How to Approach Women", "How to Gain Confidence" and "How to Attract Women."
For info, visit: http://www.macklessonsradio.com or call 818-924-3379
Media inquiries, contact: Andrew Goodin
###