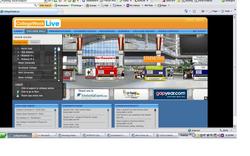 KnowHow2GO is a national public service campaign that encourages low-income middle and high school students to actively prepare for college
Boston, MA (PRWEB) September 11, 2008
CollegeWeekLive (http://www.collegeweeklive.com) today announced that the following leading organizations will be partnering and participating in its upcoming Fall 2008 event taking place November 12 and 13: College Parents of America, National College Access Network, DCCAP, KnowHow2Go, Education Funding Consultants Association,
K¹² Inc. and Next Step Magazine.
CollegeWeekLive, which connects thousands of high school students and their parents with hundreds of colleges from around the world through a live, interactive online environment, shares a common mission with these charter partners: helping parents and their college-bound children research, get into and pay for college.
"By participating in CollegeWeekLive, College Parents of America will be able to reach out, connect with, and interact with a broad audience of parents, and provide them with helpful information and advice," said James Boyle, President, College Parents of America. "CollegeWeekLive is a wonderful resource that allows parents to interact with and get advice from leading admission experts and college admission staff in a way that would not be possible in the offline world."
"Getting into and paying for college is a daunting experience for thousands of American families. NCAN is proud to partner with CollegeWeekLive to bring important college related information to students and families across the country to help them realize their college goals," said Kim Kiely, Executive Director of the National College Access Network.
Unlike any physical college fair, CollegeWeekLive will feature over 70 hours of live video programming streamed over the Internet - including 10 live video keynotes with leading admission and financial aid experts, 10 career profile sessions, and over 50 live video student chats with current college students from across the country and world. In addition, over 200 colleges will operate virtual booths and conduct live chat sessions with visiting students.
"KnowHow2GO is a national public service campaign that encourages low-income middle and high school students to actively prepare for college," said Melanie Corrigan, director of national initiatives at the American Council on Education, a KnowHow2GO co-sponsor. "The campaign stresses to students the importance of 'finding the right fit' by visiting campuses and attending college fairs. We are pleased to be a part of CollegeWeekLive's online effort."
"Virtual education is changing how and where students across the globe receive their elementary and secondary education. As an online-only event, we believe that CollegeWeekLive is the perfect complement for the K12 learning programs, as we help students to find their own path." said Laurel Maestas, Director, School Counseling Programs, K¹² Inc.
To register, or for more information on CollegeWeekLive-November 2008, go to http://www.collegeweeklive.com.
About College Parents of America
College Parents of America is the only national membership association dedicated to advocating and to serving on behalf of current and future college parents. College Parents of America has created a one-stop shop of information and guidance for parents - from the time they begin preparing for their children to go to college, through the complex admissions process, until their college graduation. For more on College Parents of America, visit http://www.collegeparents.org/cpa/index.html
About National College Access Network
National College Access Network (NCAN) is a 501(c)(3) organization comprised of 253 organizations and 23 individuals, which are serving thousands of low-income students and their families in 45 states, the District of Columbia, Ontario, and Quebec to help motivated, academically capable, low-income young people enroll in and graduate from college. For more on National College Access Network, visit: http://www.collegeaccess.org/NCAN/
About KnowHow2Go
Big dreams and good grades aren't enough to get into college. KnowHow2GO is a national public service campaign designed to inform young people about the actual steps they need to take to make their college dreams a reality. The campaign includes television, radio, print, outdoor and interactive advertising. It is sponsored nationally by the American Council on Education, Lumina Foundation for Education and the Ad Council. For more information, visit: http://www.knowhow2go.org/.
About DCCAP
The District of Columbia College Access Program (DC-CAP), a non-profit organization funded by Washington-area companies and foundations, encourages and enables DC public high school students to enter and graduate from college. With corporate and foundation support, DC-CAP provides assistance to those students who might otherwise never have the opportunity to attend and graduate from college. For more information on DCCAP, visit: http://www.dccap.org/
About Education Funding Consultants Association
The Education Funding Consultants Association is a non-profit, 501(c) 3, national organization of educational & financial professionals specializing in college planning & funding whose purpose is to help parents and students sort through myriad of decisions that lay ahead, decisions that can and will influence a student's future. It provides information on how and why to select colleges as it relates to costs and share insight on how to make paying for college a financial non-event. For more on Education Funding Consultant Association, visit: http://www.efcagroup.org/index.aspx
About K12, Inc.
K¹² Inc., a technology-based education company, is the leading provider of K-12 curriculum and online education programs. K¹² ® provides its curriculum and academic services to online schools, traditional classrooms, blended school programs, and directly to families. Over 40,000 students in 17 states are enrolled in online public schools that use the K¹² program. K¹² Inc. also operates the K¹² International Academy, an accredited, diploma-granting online private school serving students worldwide. For more on K¹² Inc, visit http://www.k12.com/
About Next Step Magazine
The Next Step Magazine (nextSTEPmag.com) helps students plan for college, careers and life. Next Step Magazine is a national publication for high school students that is distributed in 20,500 high schools in 50 states. For more on Next Step Magazine, please visit: http://www.nextstepmagazine.com/nextstep/default.aspx
About CollegeWeekLive
CollegeWeekLive is a unique virtual event designed to allow people involved in the college admissions process (students, parents, teachers, counselors, colleges and universities) to connect and successfully interact with one another in ways that are impossible at physical events, through powerful Web-based software and services. PlatformQ, the producer of the CollegeWeekLive, is a new company whose mission is to leverage the accessibility of online events to connect individuals, companies and organizations - across North America and internationally-- who might otherwise not be able to travel to physical events or communicate with leading experts or thought leaders.
CollegeWeekLive and PlatformQ are trademarks of PlatformQ, Inc. All other trademarks or service marks are property of their respective owners.
###