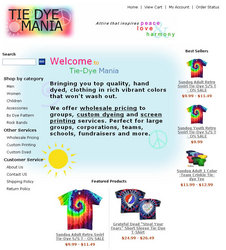 The tie dye trend we have seen has spread from t-shirts to designer clothing
Cranford, NJ (Vocus) September 12, 2008
Panda Apparel LLC, an online apparel retailer, has launched another cool website, http://www.tiedyemania.com . Tie Dye Mania is unique to other tie dye apparel sites in that it appeals to consumers of all ages and genre. Tie dye was originally a popular trend during the 1960's and 1970's Woodstock generation. It's not just the same old 70's rainbow swirl anymore.
TieDyeMania has offerings exceeding 100 dye patterns, including many pop culture themes such as breast cancer awareness, earth day, peace and patriotic designs. In addition, they feature specialty rock band styles such as The Grateful Dead, AC DC, Pink Floyd, The Who, and the Rolling Stones along with many other Rock Bands. Today, tie dye has resurfaced in such a way that it is no longer stereotypical to the free love society anymore. There are many options beyond the forever-popular rainbow swirl.
The momentum driving sales may be attributed to celebrities spotted everywhere wearing very fashionable tie dye clothing. This widespread trend has reached retailers on all levels. "The tie dye trend we have seen has spread from t-shirts to designer clothing," states Scott Marino, owner and web developer of Tie DyeMania.com. Tie Dye Mania, Marino's brainchild, offers a comprehensive collection of tie dye clothing for men, women and children.
After much research and many requests from local organizations clearly there was a need for tie dye apparel. Every day there are requests for specialty tie dye shirts, scrubs, bags and even sheets. For example, in many of the area high schools, tie dye apparel has become their first choice for team spirit wear. Although the economy is affecting many apparel retailers, Panda Apparel's research indicates that sales in tie dye apparel will continue to grow well into 2009.
Panda Apparel LLC was formed in 2007 as an online specialty apparel retailer. In addition to TieDyeMania.com, they operate LittleJammies.com and PandaApparelLLC.com. Additional specialty and niche websites are planned for the near future.
###