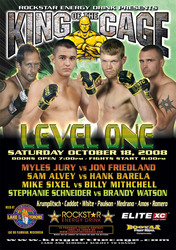 The loss in July was very hard on
Lac du Flambeau, Wis. (Vocus) September 16, 2008
Lake of the Torches Resort Casino will once again play host to mixed martial arts global powerhouse King of the Cage – Level One on Saturday, Oct. 18, in the convention center. Tickets are $35, $45 and $75.
Northwoods resident Justin "Violence" Krumplitsch returns to Lake of the Torches to reclaim his glory lost during a bout this past summer. Krumplitsch was defeated by Brandon Delprado in the second round of King of the Cage – Rock Solid held July 19 at the Indian Bowl in Lac du Flambeau. Krumplitsch is a member of Sixel's Fight Club, based out of Eagle River, and will surely live up to his name in a no hold-barred match.
Local Wisconsin superstar Mike "Six Gun" Sixel also returns to take back his winning status as he squares off in a bad-blood rematch with Billy Mitchell, to whom he suffered a devastating loss at July's Rock Solid event. Mitchell executed a Guillotine Choke in just 43 seconds of the first round of to win the match during the event. Sixel will enter the ring with the burning desire to overcome that defeat and redeem his fighting reputation.
Michael J. Broderick, Director of Marketing for Lake of the Torches remarked, "The loss in July was very hard on "Six Gun", who went into that match with an undefeated record for Wisconsin fights. I can only imagine the determination and drive that he must now have to win back what he lost in the cage at Rock Solid. This is a true story of redemption and it will be inspiring to see him attempt to rise up once again."
In the main event, Jon "White Trash" Friedland will battle contender Myles "The Fury" Jury. Based out of Milwaukee, Friedland has taken the Wisconsin mixed martial arts scene by storm with a fierce intensity and determination to overpower his opponents. He will battle Michigan native Myles "The Fury" Jury, who recently won his first pro fight in June by getting into the mount and unleashing unanswered elbows.
"We are very excited about this match-up at the Level One event," said Terry Trebilcock, President of KOTC. "The will be a true battle royale as 'White Trash' Friedland unleashes his fury on the up and coming Jury. This will be one fight no one who follows mixed martial arts will want to miss."
Other fights include local warriors Sam Alvey, Ryan White, Shane Caddot, and Ernie Paulson.
Tickets are available online at http://www.kingofthecage.com or at Player Services at Lake of the Torches Casino. You must be 18 to attend the event.
Situated on the shores of Pokegama Lake and nestled in Wisconsin's Northwoods, the Lake of the Torches Resort Casino has a feel of a classic Northern retreat and reflects its Ojibwe culture and heritage. The casino has over 800 slot machines (including a non-smoking area), 12 blackjack tables and two Poker tables, a high-stakes Bingo Hall seating up to 500 persons, the 24-hour Game Time Grill and the Eagle's Nest Restaurant. The hotel has 101 well–appointed rooms, the Dancing Waters Lounge and the Woodland Oasis fitness center and pool. The 8,500 square-foot Convention Center with the Hall of Nations offers an outstanding venue for entertainment, receptions, trade shows, meetings, presentations and seminars.
For more information on this show and upcoming events at Lake of the Torches please see http://www.lakeofthetorches.com.
###