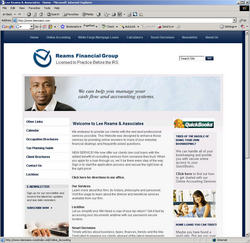 We think that Swizznet is a perfect add-on product for our CPAs and Tax Accountants who service QuickBooks-managed businesses
Malibu, CA (PRWEB) September 15, 2008
ClientWhys and Swizznet have just announced a partnership that allows ClientWhys CPAs and Tax Accountants the ability to integrate Swizznet online accounting solutions directly into their website. ClientWhys will offer customers Swizznet-enabled websites that will include the ability to login into QuickBooks® files over the internet and truly collaborate in real time with clients' accounting files. The ClientWhys website will include a client login area, how-to tips and promotional material for CPAs and Tax Accountants.
Since most small businesses are still using workstation-based versions of Quickbooks, they have not been able to take advantage of technology and web-based applications until now. The Swizznet system allows tax accountants and small businesses to access non-web-based versions of QuickBooks over the internet. This helps reduce errors, travel time and speed of tax accountant's services to their clients. By integrating the Swizznet system into the ClientWhys website product line, tax accountants can now promote online accounting services through e-mail client newsletters and additional website traffic.
"We think that Swizznet is a perfect add-on product for our CPAs and Tax Accountants who service QuickBooks-managed businesses," stated Lee Reams II, CEO of ClientWhys. Kristin Callan from Swizznet added, "We have been looking for a high-end website design partner who can take our tax accounting customers' image to an entire new level; we have found that partner in ClientWhys."
Click here to preview a sample website or visit http://www.clientwhys.com or http://www.swizznet.com for details.
Quickbooks is a registered trademark of Intuit, Inc. All rights reserved to trademark holder. ClientWhys and Swizznet are not associated with Intuit in any way.
About ClientWhys, Inc.:
ClientWhys serves over 13,000 tax and accounting professionals nationwide. ClientWhys is geared to the hard new realities of ever-changing tax law, increased client demands and new competition from larger corporate financial service firms. Providing tax accountants with expertise and knowledge are elements of what we do. Their success is not just based on their professional designations. It is based on how they manage their practice, the services they offer, and the way they communicate and address issues facing their clients year-round.
For more information, contact ClientWhys at 1.800.442.2477 or visit us online at http://www.clientwhys.com.
About Swizznet:
Swizznet provides accountants across the U.S. the ability to offer true online accounting services to their clients, while taking the hassle out of the bookkeeping and accounting process. Swizznet provides secure online access to the full version of QuickBooks, as well as a complete virtual desktop with Microsoft Office, document management tools and secure online data storage.
Swizznet is built by accountants for accountants and is committed to providing you with the best proven technology solutions and tools. Our Online Accounting System gives you the tools to be more productive, increases your service offerings, and allows you to better collaborate with your clients.
If you want to build your practice and to better collaborate with your clients, contact Swizznet today at 888.794.9948 or visit us online at http://www.swizznet.com.
###