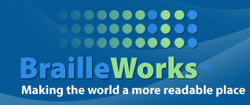 Having this program in place will allow the agency or company to say, 'We are accessible; request any of the following documents in Braille, large print, audio, or screen reader friendly text file today!'
Seffner, FL (PRWEB) September 16, 2008
The Americans with Disabilities Act (ADA) requires government agencies and certain businesses to make public documents accessible to the blind, visually impaired and reading disabled. However, some businesses find it difficult to comply with this ADA provision. The materials contained in public documents can change frequently, and business owners may find it challenging and expensive to stock a library of Braille documents because it isn't always possible to anticipate demand.
Braille Works makes compliance easy with the company's new Access on Demand capability. With Access on Demand, businesses don't need to stock Braille materials. Instead, businesses can register their public documents with Braille Works and provide a phone number or link on their website to order the desired alternative format. Braille Works receives the order via email, converts the requested document into the appropriate format, and sends it directly to the customer using the client business return address making the company look like a hero.
Doing the Right Thing
Equal access isn't a matter of convenience; it's the law, and Braille Works is dedicated to fulfilling its mission to make the world a more readable place for the blind. The company believes making conversion to accessible documents fast and easy will expand access.
Business Development Manager Denise Prophet describes the role the company plays:
"We are very excited to be able to offer a solution affordable to government agencies and large companies, allowing them to meet their legal obligation to provide their public documents in alternative formats. So many companies walk away from doing the right thing because of the up-front cost of transcribing documents into Braille or large print that may never be requested by the end user."
As Prophet notes, doing the right thing is easier with Access on Demand. Businesses or agencies can comply with ADA provisions without paying for materials customers don't request.
Keeping Customers Happy
In addition to helping companies fulfill their legal obligations, the service helps Braille Works client businesses keep customers happy:
"Companies can have us 'on retainer' through the Access on Demand Program, and we will fill their order as their customers request a document in an alternative format like Braille," says Prophet. "Having this program in place will allow the agency or company to say, 'We are accessible; request any of the following documents in Braille, large print, audio, or screen reader friendly text file today!'"
The new Access on Demand service benefits everyone - the businesses and agencies that need to comply with ADA regulations as well as the blind, visually impaired or reading disabled customers who need ready access to user-friendly formats.
About Braille Works:
Braille Works is truly dedicated to Braille literacy and making the world a more readable place. Client projects are given careful consideration to make every page easy to read and handle, giving readers the respect and independence they so rightly deserve. From the layout of a Braille document to the brightness of the paper for a large print document or utilizing professional readers for audio projects, our organization strives to meet the needs of client customers with visual and reading impairments. Braille Works consists of top-notch Braille technology and people with Christ-centered standards. Visit http://www.BrailleWorks.com for more information or contact brailleworks@brailleworks.com.
###