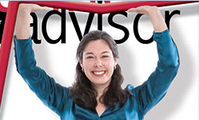 Anything that lets you take what you already have, and use it better, cuts down on extra overhead and keeps you more competitive.
Hanover, MD (PRWEB) September 22, 2008
With the economy in a downturn, technology companies are finding it increasingly harder to maintain steady revenue, let alone to grow. While businesses focus on reigning in their budgets, solutions providers are faced with the challenge of demonstrating how investing in new forms of technology now can result in substantial financial savings in the long term.
In its latest issue, which hit stands on September 15, Ingram Micro's Channel Advisor magazine details technology companies' struggle to keep revenue flowing while managing to grow during the current fiscal recession.
Among those featured in the article is Jessica Tanenhaus of Mavenspire, Inc. Within the company, Tanenhaus fulfills several roles, which include marketing management, process engineering, and development and programming. She has also served as President of the MidAtlantic chapter of the VentureTech Network for the past year, after serving as Vice President for a previous year.
With 10 years of experience in these areas, Tanenhaus has a unique perspective on how to sustain financial returns and increase revenue.
When it comes to spending money on upgraded applications and machinery, decision makers are often dismayed by the perception that new technology will again be outdated within two years. With the current economy, businesses want to conserve budgetary funds, not spend more money on new technology.
In order to remain relevant, solution providers are presented with the task of helping businesses understand that new forms of technology can not only save them from overhead costs but can also be scalable for long term use over the course of years and multiple upgrades.
To overcome weaknesses and utilize internal resources with optimum efficiency, Tanenhaus recommends forming strong partnerships.
Mavenspire's philosophy, in part, is to help businesses understand that technology can actually help reduce the overall costs of doing business. This philosophy has helped the company build strong long term relationships with highly valued clients. Mavenspire also recognizes the value of partnering with product vendors and other solution providers to give customers the most value.
Tanenhaus says, "Anything that lets you take what you already have, and use it better, cuts down on extra overhead and keeps you more competitive."
About Mavenspire )
Mavenspire, founded in 1999, is a longtime member of the Ingram Micro network, the world's largest technology distributor and a leading technology sales, marketing and logistics company and the publisher of Channel Advisor Magazine. Mavenspire's client base includes global nonprofit organizations as well as multiple school systems and government organizations.
Media Contact:
Melissa Cavanaugh
443-433-0106 ext. 528
mcavanaugh @ mavenspire.com
###