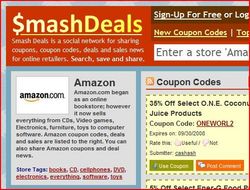 Newer coupons and sale offers are being sent to consumers every day, and the market is getting so busy that websites can simply no longer provide the latest and greatest coupons to their visitors on their own
New City, NY (PRWEB) September 16, 2008
Smash Deals Inc. has launched a new social networking website at http://www.smashdeals.com/, allowing web users to obtain and share coupon codes, online deals and special promotions for online retailers.
According to recent news reports consumers - especially those shopping online - are becoming smarter and more strategic at scoring the best possible deals. The trend can partially be blamed on tough economic times. But according to Martin Newman, CEO of Smash Deals Inc., it's all part of a natural evolution of the online retail market. "What we are seeing now is crowd sourcing by individual customers, sharing and helping one another in finding coupons", says Newman.
SmashDeals.com joins the ranks of sites like RetailMeNot.com, SlickDeals.net and FatWallet.com. Consumers can save on average anywhere from 5% to over 50% off retail prices using readily available coupon codes on SmashDeals.com. Furthermore, individuals who utilize the site for their own benefit are welcome to give back to the community by posting newer coupons, as most promotional deals have a short lifespan. "Newer coupons and sale offers are being sent to consumers every day, and the market is getting so busy that websites can simply no longer provide the latest and greatest coupons to their visitors on their own", says Newman, adding that "SmashDeals.com's formula is to allow people to not only find deals, but also to give back to the community".
The site contains a special section dedicated to free stuff that is given away by online merchants, sometimes as part of a promotion. Coupons and deals can be sorted in various different ways, such as by the most popular listings or coupons that are expiring soon. At the time of launch, the site already lists thousands of discount deals and promotion codes from hundreds of stores, including top eCommerce destinations such as Amazon.com, Buy.com and Newegg. The site also offers RSS feeds and the ability for members to track coupons from a particular store or keyword via the site or the RSS feeds.
Smash Deals Inc. also plans to launch holiday shopping and sales-specific features in the future. "We are working on a section for the 2008 holiday shopping season, especially Black Friday sales", Newman said. The site hopes to attract customers who keenly follow the post-Thanksgiving shopping ritual and scout store ads for the best deals weeks in advance.
The company is also offering the script that powers the main site for sale. The SmashDeals Coupons Script will be available for $499.99 with a one domain license, or as a turnkey hosted solution for $29.99 a month. Both the site and the script feature advance social network tools, such as importing contacts from external address books, creating fan-links with other users, tagging, a searchable index and an engaging "Smash Bucks" rewards system.
###