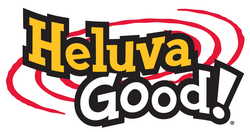 That's a hell of a good cheese.
Sodus, NY (Vocus) September 12, 2008
Heluva Good!®, a leading producer of real sour cream dips, cheeses, and condiments, recently announced the addition of a new limited-edition Jalapeño Cheddar sour cream dip to its product line. Jalapeno Cheddar, along with Heluva Good! Bacon Horseradish, took the two top awards in the "Dips" category at the World Dairy Expo Championship held in Wisconsin in August 2008 and has been a hit with racing fans.
The new Heluva Good! Jalapeño Cheddar dip perfectly balances the fiery taste of jalapeño peppers with the cool and creamy taste of cheddar to create a uniquely smooth and spicy flavor that can be enjoyed with chips, veggies or even on a burger. Available in a 12-ounce package, Heluva Good! Jalapeño Cheddar dip will be on retail shelves in the dairy case for a limited-time only.
"Jalapeno Cheddar is the perfect dip to match the bold personality of racing fans. Serving the new Heluva Good! Jalapeño Cheddar sour cream dip is the perfect way to spice up your next party or tailgate," said Chris Ross, Vice President of Marketing. "The bold, fiery flavor and cool, creamy balance of the Jalapeño Cheddar dip guarantees that your party is a Heluva Good party."
Heluva Good! makes a variety of sour cream dips, including Bacon Horseradish, Buttermilk Ranch and French Onion. Heluva Good! also produces an assortment of stick, fancy shredded, select cut and cold pack cheeses, as well as a variety of condiments.
For more information on Heluva Good! products and on where to buy them, please visit http://www.heluvagood.com .
About Heluva Good!®
Heluva Good!® brand real sour cream dips, cheeses and condiments have held a reputation for quality and taste for more than 75 years. The Heluva Good! name has been as much a promise as a brand name and dates back to 1925, when Perry Messinger, Heluva Good's founder, began making wedges of homemade washed curd cheese in a basement in Sodus, NY. Messinger sold a little, but mostly did it as a hobby. Then one day a traveling salesman stopped in and sampled a wedge. Upon tasting it, he declared, "That's a hell of a good cheese." At that moment, Messinger knew he had something very special. Today, Heluva Good! is part of the HP Hood LLC family of brands. You can now find Heluva Good! products in dairy cases throughout the Eastern and Southern United States and all of Canada. Visit http://www.Heluvagood.com for more information.
Media Contacts:
Lynne Bohan
HP Hood LLC
(617) 312-6173
Lynne.Bohan@hphood.com
Sarah Barow
HP Hood LLC.
(617) 887-8455
Sarah.Barow@hphood.com
###