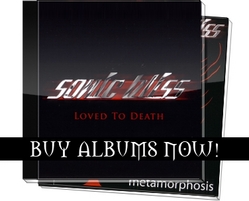 We're going after the brass ring. We've been at it for a long time and we're gonna get it!
Los Angeles, CA (PRWEB) September 17, 2008
NY Rockers, Sonic Bliss' era-bending, emotion-spanning music has grown meatier yet more melodic, crunchier yet more beautiful on its sophomore effort "Loved to Death." The freshly released album is packed with hit-worthy material that demonstrates the band's ability to merge influences with nary a seam in sight. The release is currently available on i-Tunes and Rhapsody.
"Loved to Death" culls from rich rock-n-roll traditions, cultivating its multi-faceted sound and connecting with listeners through musical diversity -- expressed with focus and clarity while eschewing scattershot kitchen sink mentality. Sonic Bliss is a team of artists using seasoned musical blacksmithing skills to forge its style.
The new CD is a concept album that is much more than a wallow in excess. It "has a point and a positive message," according to Kerry, bass player for Long Island's Sonic Bliss, "but it's hidden, to a degree." Dodging excess includes not indulging in tenebrous esoterica, yet the proper amount of mystery is maintained. There's plenty to think about. This is smart -- but not arrogant -- music. Sonic Bliss doesn't talk down to its listener, nor does it insult the intelligence.
Their first single, "Babe I'm Dyin", is already being requested by radio stations and web magazines that cater to Sonic's special brand of rock. Songs like "Dead Sea of Love," "Sahara," "Better Days" and "Seven Days Forgive Me" form a soundscape seething with energy, overflowing with heart, pregnant with meaning. It's the classic rising phoenix-like into the brilliant voice of tomorrow, the tradition of music as storytelling made meaningful to a 21st Century audience.
Such a cornucopia of aural wealth has found the band as Alice after consuming something magical on the other side of the rabbit hole. "We have turned down some local shows because we have outgrown the venues," says Kerry. Then there's the physical size of the band to consider. "In addition to the six members of the core band, we hire brass [including former Springsteen and Blood, Sweat and Tears players] and a keyboard player. That's nine people all strutting their stuff on stage, so we need the bigger showrooms" -- to accommodate the band -- and the audience.
Furthering the band's huge growth -- as if the album alone wasn't enough to ignite a mushroom cloud of fandom -- is Sonic Bliss' recent teaming with A&R Select, the premier A&R firm based out of Los Angeles, CA. who is handling both bookings and promotion for the band. "We're going after the brass ring. We've been at it for a long time and we're gonna get it!" More information is available by visiting http://www.sonicbliss.net and http://www.promofm.com/sonicbliss.
For booking and interviews, contact Joe Conte at 323-924-5897 or email joe(at)arselect.com
###